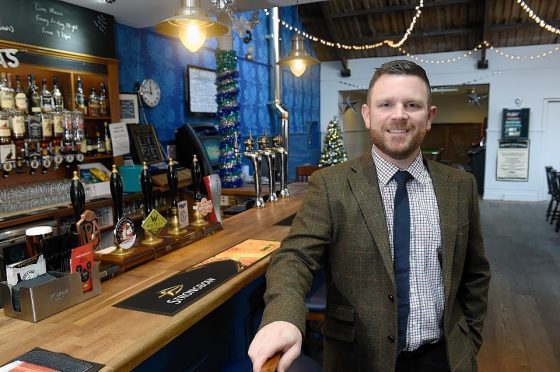 Police are hunting thieves who sneaked into a Moray bar and restaurant and stole a laptop computer.
Staff at the Mosset Tavern in Forres said the incident happened when it was busy with customers.
The raiders slipped into the restaurant unnoticed while staff were serving revellers in the adjacent bar.
But a car believed to have been used by the thieves was caught on CCTV.
Owner Gordon Brailsford said: "We put a post on Facebook about the theft and it has been seen by something like 21,000 people, and shared by 700.
"Folk are upset that we have come to harm, and are genuinely shocked and saddened.
"An extraordinary amount of people have shown an interest and I'm hopeful that can help catch whoever took it."
The Mosset Tavern buys all its technological equipment from the Reboot computer recycling charity in Forres, which has donated a free replacement laptop.
Mr Brailsford believes the device may have been taken because the culprits thought it could contain banking information.
He added: "Thankfully there is no information on that computer, which is used to access a web-based diary system.
"But whoever took it might have thought it had sensitive information on it, I don't know what their agenda was."
A police spokeswoman said: "This has been reported and inquiries are ongoing into the theft.
"We believe the incident occurred at around 11.30pm on Friday evening, February 19."
Last week raiders made off with £5,000 of materials and equipment from a builder's yard in the North Street area of Forres.
Two years ago, the Mosset Tavern was the victim of an unusual crime when more than £100 of fish was stolen from outside its door.
An early-morning delivery of haddock, trout fillets and prawns was left outside the external kitchen door, but when staff later went to unload the batch of seafood they found it had been pilfered.