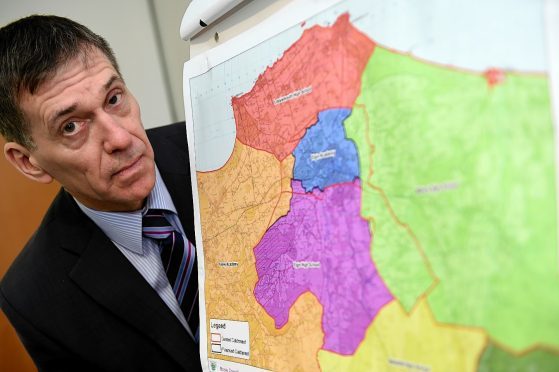 Moray Council aims to safeguard a school once threatened with closure as part of plans to radically shake up the region's secondary zones.
The local authority is consulting residents on "long overdue" proposals to reshape existing catchment areas for the area's eight secondary schools.
Yesterday, during an event at Elgin Library, council education chiefs explained that some of the zones being suggested had been designed to boost Milne's High School in Fochabers.
Less than two years ago, the council tabled plans to shut Milne's as part of sweeping changes to the region's education system.
However, parents launched a massive campaign to ensure its future and councillors ultimately voted in favour of it remaining open.
Senior education advisor, Paul Watson, said the catchment area for Milne's High School would be expanded to include all pupils from Milne's Primary, Mosstodloch and Lhanbryde Primaries.
Mr Watson added: "We hope that rezoning will have benefits for every school in the region, and we believe that will help strengthen the roll at Milne's."
Mr Watson hosted two consultation events in Lossiemouth this week prior to staging another two in Elgin yesterday.
He added: "We have had a largely positive response to these consultations, which are really just a tidying up exercise.
"It has been needed for a while and most people recognise that."
Since 1981, Burghead parents have been able to choose whether to send their children to Elgin Academy or Lossiemouth High School.
But under the new system, all of the village's children will be directed to Lossiemouth, a situation Mr Watson said parents were largely content about.
Members of Elgin Community Council attended yesterday's meeting to form a viewpoint on the plans ahead of rendering an official response later this month.
The rezoning plans were launched in response to increasing pressure on the area's secondary school rolls.
Last year, councillors learned that some secondary school zones had been in place for more than 40 years.
The children and young people's services committee pledged to revise the system, which it feared was becoming increasingly irrelevant as the region's population continued to expand.
The moves will impact on schools in Elgin, Forres, Lossiemouth, Burghead and Fochabers – and affect where children from each surrounding area attend classes.