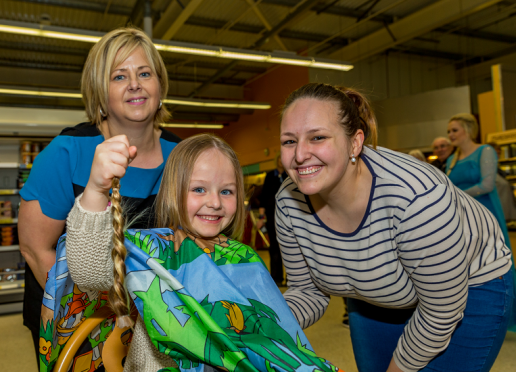 A little girl from Forres has bravely donated her golden locks to a charity which provides wigs for children who have lost their hair due to illness.
Five-year-old Madison Lynch wanted to do everything she could to help the work of the Little Princess Trust when her mum Carrie, 30, told her what the charity does.
Operating throughout the UK, the trust gives specially crafted, real-hair wigs to young boys and girls suffering from hair loss for free.
The Applegrove Primary pupil raised more than £700 in sponsorship – double her target – and had her hair chopped at a special event at Tesco in her hometown on Saturday.
Proud mum Carrie Lynch said: "Madison had been thinking about having her locks cut off for a wee while.
"She's quite a sensitive little girl, and I mentioned the charity to her and told her about how the trust was founded because of a sick little girl who was her age, so it hit quite close to home for her.
"She was more than excited to take part and start fundraising, and we've so far made £703. The target she set initially was £350 – the cost it takes for the charity to buy the wigs – so she's completely smashed it.
"But as well as raising all the money, all of her hair that's been chopped off will be used in making wigs as well."
Mrs Lynch said that her daughter loves her new bob style, and even though the hardest part is over she's still helping her mum with her fundraising efforts.
Mrs Lynch said: "She's been very happy, and has been helping to count up all the pennies that people have donated in person at the Tesco on Saturday and she's been asking me to read to her all the messages we've been getting online on our JustGiving page – I think she's loving being a wee bit famous.
"We're all very proud of her."
To donate online www.justgiving.com/Carrie-Lynch2