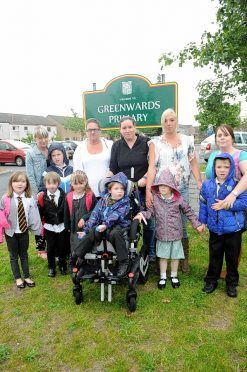 Parents protesting plans to slash support staff posts and hours at schools across Moray have claimed education bosses have failed to answer questions on how it will affect their children.
Moray Council has held individual talks with parents who fear that their children, who have additional support needs (ASN), will suffer when the new hours are brought in.
But while the council said the meetings had been "useful" in relieving tensions, some parents said they still had unanswered questions.
Elgin mum Gillian Groves attended one of the meetings with the authority's corporate director of education and social care, Laurence Findlay, inclusion manager Pat McLennan and head of integrated services, Susan Maclaren.
She told them her six-year-old son Tom, who has cerebral palsy, would struggle if he loses the one-to-one supervision which he has become accustomed to receiving at Greenwards Primary School.
Though Mrs Groves says the meeting did not provide her with any answers on how Tom will be schooled after the summer, she said the summit had allowed her to explain her fears to council bosses.
She said: "I think the meetings were quite eye-opening for both ourselves and the council.
"I don't know how Tom will be affected by this, and we won't know how children will receive support until the day before the new term begins.
"That doesn't give us much time to raise any sort of dispute, and I think there could be a lot of unhappiness next month."
Mrs Groves said she and some of the other parents leading the campaign against the new ASN formula would meet to discuss their next move in the coming weeks.
She added: "We may have to take this to the Scottish Government, to ask them to look at the way council education budgets are funded and whether that can be changed."
Moray Council said the meetings had been "useful" in helping to relieve tensions between its education department and the parents who have campaigned against the new system of doling out ASN hours and staff.
A local authority spokesman said: "The meetings were useful and constructive, and hopefully will have gone some way to reassuring parents and allaying any concerns they may have had about ASN provision for their children."
The new approach was approved during a council meeting last month.