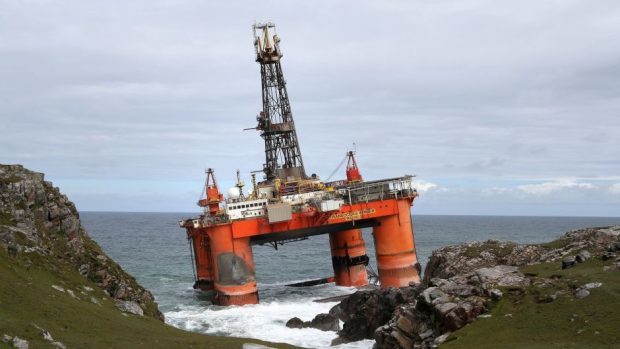 A new attempt to remove the stricken Transocean Winner rig may be made this week.
On present forecasts, winds speeds are expected to ease over Thursday and Friday which could provide safe conditions for the platform to be loaded onto the deck of a heavy lift ship.
The 17,600 tonne rig is so badly damaged after grounding on Lewis two months ago it needs to hitch a ride to a scrap yard in Turkey on a heavy lift ship.
Unsuitable weather has twice postponed the removal plans.
Last weekend the operation was abandoned after two days of waiting for a two metre swell to dissipate.
Continuing the loading risked the 17,600 tonne rig slamming down on the ship, potentially damaging both or creating another accident.
Hugh Shaw, the UK government's salvage advisor, said a decision would be made after a scrutiny of up-to-the-minute weather forecasts early this morning (Wed).
If the brisk southerly wind subsides as predicted then the 20 hour process to unhook the drilling rig from its eight large seabed anchors should commence later today (Wed) in preparation for the removal.
Some 27 tanks in the stricken rig are taking in water meaning using tugs to tow the listing structure at sea would be hazardous for the lengthy voyage to Turkey.
Up to 53 tonnes of diesel spilled into the sea when the rig crashed onto rocks at Dalmore on the west coast of Lewis after breaking free from its tow during a storm on 8 August.
The redundant drilling platform was salvaged and towed to sheltered waters in Broad Bay on the east side of the island where she remains secured by eight anchors.