Dundee twins' Greatest Showman sing-along gets thumbs up from Hugh Jackman
Hollywood star Hugh Jackman has praised a pair of Dundee twins for their performance of a song from The Greatest Showman.
Ollie and Cameron Scougal, aged five, have become internet stars in recent years, showing the audience on their dedicated social media channels that life with Downs Syndrome is "nothing to be sad about".
Recently their mum Elaine recorded a video of them playing on a toy keyboard and singing This Is Me – prompting Greatest Showman star Hugh Jackman to respond on Twitter: "mates, you're (sic) performance is awesome!".
Couldn't agree more Lynn! Hey Ollie and Cameron – Mates, you're performance is awesome! HJ

— Hugh Jackman (@RealHughJackman) January 6, 2019
Speaking to The Courier, Elaine said she was delighted to get an acknowledgement from Hugh, whom she admires due to her love of musicals.
As well as being in The Greatest Showman, the Australian-born actor, singer and producer has starred in the film adaptation of Les Miserables.
He is also known for his long-running role as Wolverine in the X-Men film series.
She added: "I actually didn't know anything about this, it was one of our followers who sent the link and the video to Hugh.
"When they told me he'd responded I didn't believe it.
"I'm really into musical theatre, especially The Greatest Showman and Les Miserables, so I really admire him.
"It's great for Ollie and Cameron to get acknowledgement from him. Anything that raises awareness of Down's Syndrome is great.
"I want people to see that they're not defined by the condition and they have a lot of fun."
The twins' social media fame began when they were toddlers and Elaine posted a video of them "roaring about the place".
The clip went viral, racking up 10 million views. Now, their Facebook page has around 200,000 followers and is growing steadily.
Elaine added: "I don't do much to promote the page, it's grown naturally.
"I just post on it, and people seem to like it. Parents often refer other parents and it's picked up momentum."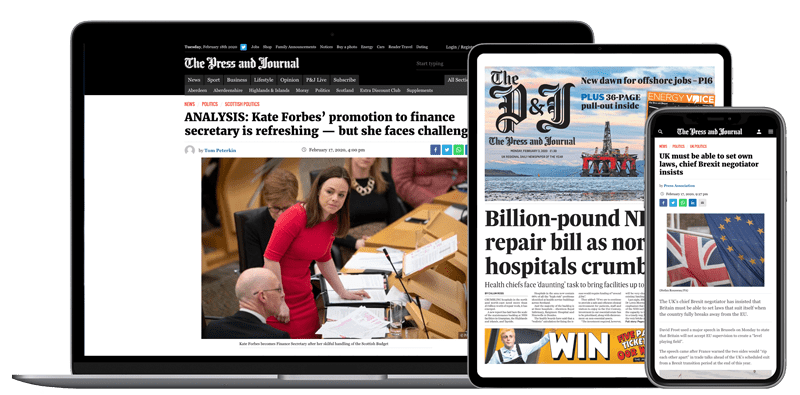 Help support quality local journalism … become a digital subscriber to The Press and Journal
For as little as £5.99 a month you can access all of our content, including Premium articles.
Subscribe