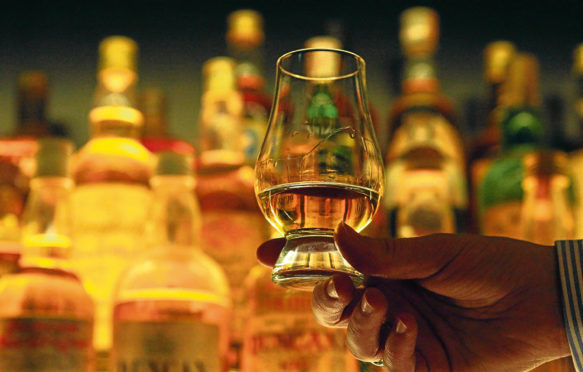 The Scottish whisky industry has launched a lawsuit against a US distillery for using the word "Highland" on its bottles.
The Scotch Whisky Association (SWA) is accusing the VirginiaDistillery Co of "false, misleading and deceptive" labelling of whiskey sold under the brand name "Virginia-Highland Whisky".
Whiskey made in the US is spelled with an "e", and the lawsuit claims the term "Highland" and its spelling of "whisky" falsely imply that the product is Scotch wholly produced in Scotland.
A federal lawsuit has been filed in Delaware.
The US distillery imports whisky from Scotland, blends it with American single malt and finishes it in Virginia.
Chief executive Gareth Moore insisted Virginia Distillery has always been up front with its customers, with labels advising that the drink is "whisky from Scotland, married with Virginia whisky".
He is confident the complaint will be resolved and that his company will "continue to expand the Virginia-Highland Whisky brand across the US".
The SWA told the Sunday Post that it works to protect the intellectual property of Scotch whisky, and consistently takes such action across the globe.
The organisation said: "This is vital to protecting Scotland's national drink and is a deterrent to those who seek to take advantage of the quality reputation of Scotch whisky.
"These proceedings were not taken lightly, but only after more than 12 months of attempts by the SWA to resolve this issue privately with the company in question."
In February, the SWA won a long-running legal battle to stop a German distillery calling their single malt Glen Buchenbach.
The court ruled the word "glen" in the branding could make people believe it was produced in Scotland.
Scotch whisky exports are worth £4.7 billion annually and account for 70% of Scotland's food and drink exports.
Whisky expert Charles MacLean added: "The distillers maintain the description to be accurate, since the product is a mix of Scotch and Virginia whiskies but, in 1938, the Scottish Court of Appeal found that a mix of Irish and Scotch whiskies could not be named 'Scotch'.
"It remains to be seen what the American courts decide."