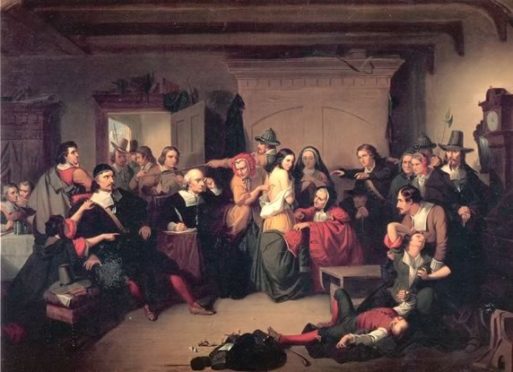 A rumbling noise could be heard coming from the direction of Janet Wishart's home.
The cause is unknown but with a sickly fisherman lying a matter of streets away – unable to work for a month and surely under the influence of a dire spell – it was enough to convince the superstitious residents of Aberdeen of her commitment to the dark arts.
And in 1596, as trials took place across the north and north-east of Scotland amidst the height of the witch craze, she was convicted of 18 counts of witchcraft.
She and her son, Thomas Levis, who was accused of sorcery, were both "strangled and burnt", according to the city archives.
Mrs Wishart's story and dreadful fate are among those told through a new interactive map created by researchers at Edinburgh University, which tracks the history of more than 3,000 Scottish women who were accused of being witches in the 16th and 17th century and includes much data published for the first time.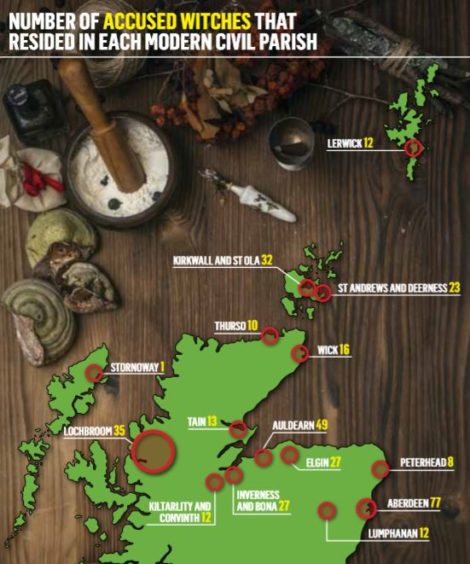 A section of the chart, which illustrates where Scotland's accused 'witches' lived and died, emphasises the strict punishments that were handed down by the courts to those accused of colluding with dark forces.
The project follows the university's breakthrough initiative on the Scottish Witchcraft Survey, which brought to life the persecution of women during the period, with many burned at the stake, strangled or drowned.
The research reveals that eight days before she was apprehended, witnesses heard a rumbling noise in Mrs Wishart's house.
City records note the noise frightened her next-door neighbour who feared his house might fall down, with the disturbance taken as further evidence of her supernatural powers.
The case of Isobel Gowdie from Nairn, in contrast to many Scottish witch trials, was marked by the accused's readiness to speak about her crimes.
After being arrested on suspicion of witchcraft in 1662, Gowdie claimed she had renounced her baptism and given herself to Satan.
She stated: "I denyed my baptism, and did put the one of my hands to the crowne of my head, and the other to the sole of my foot, and then renuncit all to the Devill."
Ms Gowdie also admitted changing straws into horses, meeting with the Queen of the Fairies and stealing milk from cattle using magic.
There is no record of her fate, though it is believed she too was executed.
In 1630, Margaret Whyte was accused by "another witch" of being part of a "demonic" group that cast stones in the water mouth at the Dee when a boat was coming in, reportedly in order to destroy it and its crew.
Her fate is also unknown.
The Scottish Witchcraft Database records 26 witches in Elgin, among them Janat Cuj who, in 1646, was accused of causing illness and depriving victims of speech after arguments.
She denied the charges, but was nonetheless held for 'private confession and prayer'.
Instead, she escaped and fled the area.
One of the most disturbing incidents revolved around the arrest, torture and execution on Orkney of Alison – or Alesoun – Balfour, who was implicated in a plot to murder the notorious earl, Patrick Stewart.
Despite pleading her innocence, she and members of her family – including her husband and seven-year-old daughter – were tortured.
For Mrs Balfour, the latter's cries of pain were the final straw.
Watching her child's ordeal, her resolve broke and she confessed to witchcraft and was sentenced to die at "Heiding Hill" in Kirkwall in 1594.
Before she died, she retracted her confession, stating that it had been issued to spare her husband and children further torture.
But the execution went ahead as scheduled and she was strangled and burned at the stake.​
Ewan McAndrew, Wikimedian in Residence at Edinburgh University, said: "The map is a really effective way to connect where we are now to these stories of the past.
"There is a very strong feeling that not enough has been done to inform people about the women who were accused of being witches in Scotland.
"There is still this Halloween concept surrounding them, but the idea of being able to plot these tragedies and where they happened really brings it home.
"These places are near everyone.
"There seems to be a growing movement that we need to remember these women and remember and understand what happened."
Intern Emma Carroll worked for three months collating the historical information and plotting the locations on the map of Scotland.