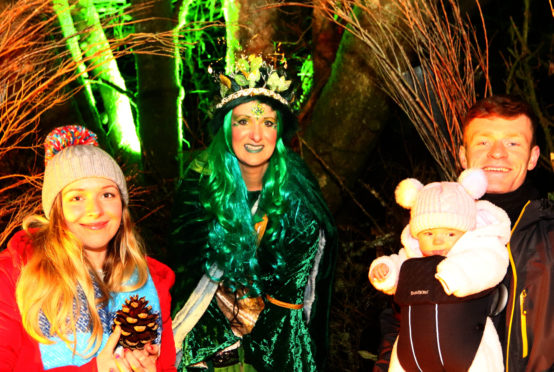 Oban's ninth winter festival got under way this weekend with organisers saying the town is buzzing and the event looks set to be the busiest yet.
For the first time in its history, the festival started with a parade, this year on the theme of fantasy, frost and fairy tales.
The Winter Queen travelled through town on her unicorn, performing magic and casting spells as shop windows lit up in her wake.
However, unicorns haven't displaced the traditional reindeer parade and Christmas lights switch-on which takes place next weekend.
For the second year, a popular festival highlight is Winter Woods, a night time walking event in walled garden and grounds of Glencruitten, just outside the town, boasting stories, performances, challenges and a light show.
Pamela Lockhart, chairwoman of Oban Winter Festival said: "This year it's bigger, and all three nights sold out immediately."
Mrs Lockhart said the next big excitement is the Haggis and Whisky Festival next weekend.
She said: "Eighteen butchers from across Scotland are competing for the Golden Haggis, and for the people's choice prize.
"There will be the Great Haggis Hunt and parade as children dress up and hunt for haggises around the town, while Oban Distillery is open for tastings and talks and  is also hosting a light and fire show."
Hats knitted for the festival's traffic bollards will be also auctioned off in aid of Mary's Meals.
Numerous other events for all ages are being staged this week, ranging from music and dance to carols, crafts,films, books and fashion.
The festival runs until next Sunday, plus special events on St Andrew's Day.
It was started in 2011 to give the town an economic boost at the quietest time of year.
Last year's figures show a boost of £1.72m to the town, with 23,500 visitors and £33,000 raised for local charities.
Mrs Lochart said this year visitors have been coming from Glasgow and other parts of the country especially for the festival and are spending three or four nights in town.