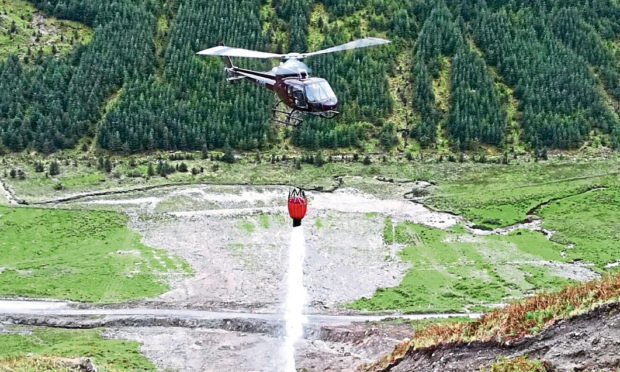 Helicopters have been used in an aerial assault on a Scottish mountain to help avoid traffic chaos.
The A83 in Argyll has been shut since August 4 when 6,000 tonnes of mud and rock swamped the road at the Rest and Be Thankful.
A temporary relief route – the Old Military Road – has recently been available to avoid a 60-mile detour.
But this shut again on Saturday when engineers detected "movement" on the mountain, with boulders and debris threatening the carriageway.
Pilots were asked to drop 1,000 litre "water bombs" to force them down the hill. The road reopened late afternoon yesterday after the water-bombing operation succeeded in stabilising the rocks.
This saved drivers having to undertake a lengthy diversionary route via the A83, A82, A85 and A819.
The debris was drilled and broken up into smaller sections to be taken away.
The Met Office says the region will see more rain this week.
A 100-tonne boulder was found after the landslip, the latest in recent months and years to blight the A83 Tarbet to Campbeltown route at the Rest and Be Thankful. Efforts to reopen the road are proving complicated, with the hillside remaining treacherous.
The delays caused by the closure have been a source of frustration for locals and road users, with Bear Scotland last week appealing for patience.
It has had to notify the police as roads crews have faced instances of verbal abuse and threats at road closure points.
Bear's Eddie Ross said: "This abuse will not be tolerated and we are already working closely with police  to investigate these incidences."