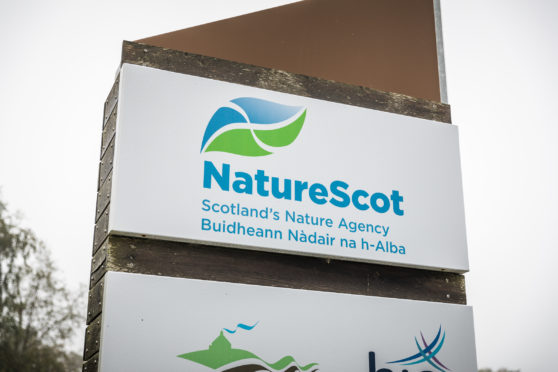 The Scottish Government's nature agency has defended the decision to spend £63,000 on changing its name after being accused of an "utterly unacceptable use of taxpayer's cash".
Scottish Natural Heritage was officially rebranded as NatureScot at the end of August, after a survey by the public body found that almost half of those questioned did not know what the organisation was for.
Some respondents  incorrectly believed it was tasked with looking after historic buildings and monuments.
But, at a cost of £63,000 over a three-year period, concerns have been raised that the change of name represents a disproportionate use of public funds.
NatureScot is replacing all of its corporate clothing, vehicle livery, marketing materials and other items with new branding, thought the body said it was "taking advantage of planned replacement" in certain areas.
The taxpayer-funded organisation, which is charged with advising the Scottish Government on conservation, wildlife management and protecting nature, has already paid £600 to replace the sign at its headquarters at Great Glen House in Inverness, and £708 to get a new sign at its Silvan House site in Edinburgh.
Liz Smith MSP, the environment spokeswoman for the Scottish Conservatives, suggested the change was not needed.
She said: "Whatever name it goes by, Scottish Natural Heritage has been a powerful ambassador and protector of our environment for almost three decades.
"I don't think anyone could miss the agency's remit or function by that name, especially after all this time."
While planning the rebrand project, two other names were considered – Natural Scotland and Nature Scotland.
However they were dismissed, as they did not align with the website name change to www.nature.scot it has emerged.
Harry Fone, campaign manager for the Taxpayer's Alliance, said: "This is an utterly unacceptable use of taxpayers' cash.
"Unaccountable quangos cost the country billions every year and many would argue they don't give the public bang for their buck."
But NatureScot has insisted the change was good value for money, and will help to "ensure a nature-rich future for Scotland".
The organisation insisted it carried out much of the work on the rebrand in-house, and said it was undertaken by staff "as part of normal duties", including the design work.
The overhaul is being carried out in phases, which NatureScot says will minimise costs.
A statement from the organisation said: "Connecting people and nature is the best way to help everyone understand the importance of biodiversity.
"The rebrand will help support this work.
"As NatureScot, we will be more recognisable to the general public as the organisation at the heart of helping to deliver the transformational change needed to ensure a nature-rich future for Scotland."
The statement added: "As highlighted, costs have been kept to a minimum – £63,000 in total over three years – as our design has been created in-house, and the old branding will be phased out over a longer transition time.
"We will continue to replace materials as they come to the end of their use, to ensure this will not incur unnecessary additional costs."