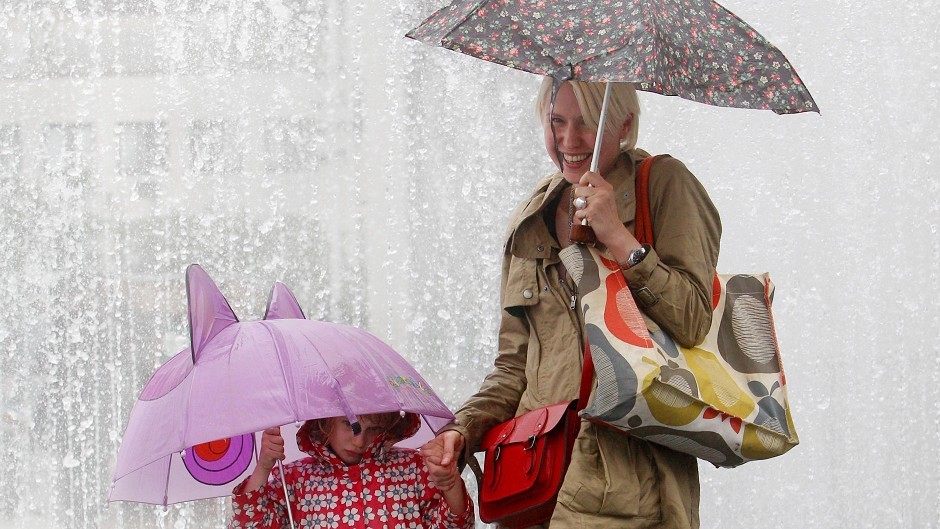 The mercury is set to rise in north and north-east this weekend – but forecasters have also issued warnings for thunderstorms and heavy rain.
A yellow alert, which covers most of the UK, is in place for Saturday when a rapid change in air temperature could result in downpours, lightening and even hailstones.
Two major events this weekend, Stonehaven Highland Games and the New Deer Show, will be at the mercy of the elements.
Those getting out and about have been urged to check the weather updates to get the latest on conditions.
Dan Williams, a spokesman for the Met Office, said the heavy rain was most likely to effect the south of the country but urged those in the north and north-east to check for updates.
He said: "There is a warning out for Saturday but it looks like it will be a dry start to the day.
"There is a chance of some heavy, thundery showers later on.
"Warm, humid air has been coming in from the Continent and is sitting above the UK but cooler air from the Atlantic will force the warm air to rise rapidly which could lead to thunder storms.
"At the moment our systems are suggesting the risk is to the south but showers may become more or less likely towards the weekend so it is worth keeping up-to-date with forecasts."
In land temperatures could reach 20C today and tomorrow with areas along the Aberdeen to Peterhead coastline at 17C or 18C.
On Saturday, temperatures of up to 22C are expected in areas of the Highlands and Aberdeenshire but coastal parts will be cooler at around 18C.
And elsewhere, parts of Britain have been warned to brace themselves for potentially dangerous heat amid predictions that temperatures could be warmer than Hawaii and The Bahamas.
Public Health England issued a heatwave alert following forecasts that temperatures could reach 32C in London and East Anglia tomorrow.
Current data suggests the peak temperatures in Honolulu, Hawaii, and Nassau in The Bahamas will be 30C (86F) and 31C (88F) respectively on Friday.
The hottest spots in the UK also look set to be warmer than European holiday resorts such as Crete and Ibiza.