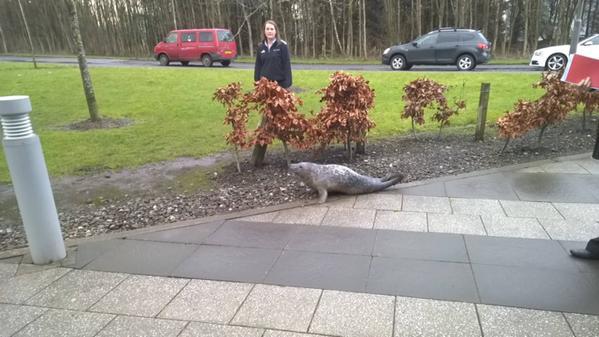 Staff at a Scottish gym got a surprise when they turned up to work – only to find a seal waiting for them at the front door.
A lifeguard at the Peak gym, on Forthside Way, Stirling turned up to work to find the very, very lost sea animal.
The seal is thought to have journey 600ft from the River Forth all the way to the sports centre – which includes a 15m swimming pool.
The animal – nicknamed Peaky Pam – was not distressed and staff made a make-shift pen to contain it using nearby benches.
Scottish SPCA rescuers arrived on scene shortly, where they took her to the Fishcross wildlife rescue centre, where it will be tended to before being released back into the wild.
https://twitter.com/leanjeanp/status/569881994945019904
Peaky Pam the seal found at The Peak sports village in Stirling this morning! @thepeakstirling pic.twitter.com/2J4z7lzij2

— anne kane (@annekaneuk) February 23, 2015