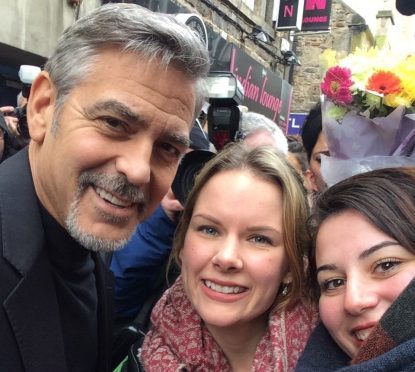 Actor, director and activist George Clooney has sent the Scottish corner of the internet into meltdown as he visits an Edinburgh Cafe.
Aww hey Mr Clooney ? What a beautiful human. No filter required ?? #silverfox pic.twitter.com/gvr5DjtGOl

— Hannah McIntosh (@hannahalison_) November 12, 2015
Edinburgh is welcoming Hollywood star George Clooney as he visits the city after accepting an invitation to meet workers at a sandwich shop which helps the homeless.
The actor-director will visit a Social Bite cafe and meet some members of staff who were once homeless but now have jobs in the chain of shops which donates all its profits to charity.
He will also have lunch at a secret location later in the day with 32-year-old wedding planner Heather McGowan, who won a competition to meet the A-lister.
Clooney will then speak at the Scottish Business Awards at the city's international conference centre in front of a sold-out, 2,000-strong audience.
He was last known to be in Scotland in 2005 when he presented Live 8 Edinburgh.
Speaking ahead of the private lunch event, Ms McGowan, who runs a wedding events company in Glasgow, said she was "absolutely delighted" and "still a bit in shock" to have won the competition.
"I'm looking forward to hearing about his involvement in Social Bite and the work of his charity, Not On Our Watch. And being in the wedding business, I'm also really interested to find out how involved he was in planning his wedding to Amal," she said.
Social Bite operates a "suspended" coffee and food programme where customers can pay for a hot drink or food for a homeless person.
A quarter of its workforce in the five Social Bite shops across Edinburgh, Glasgow and Aberdeen is formerly homeless.
Josh Littlejohn, founder of Social Bite and the Scottish Business Awards, said: "The staff are unbelievably excited about George's visit. He's one of the most famous people on the planet and we are looking forward to introducing him to the Social Bite concept."
All proceeds from the business awards event, hosted by comedian Rob Brydon, will go towards a range of charities including the Social Bite Fund and the humanitarian charity co-founded by Clooney with fellow actors Matt Damon, Brad Pitt and others.
Why is Scotland going crazy over George Clooney? Are A listers such a rare thing up there?

— A Blade (@justacword) November 12, 2015