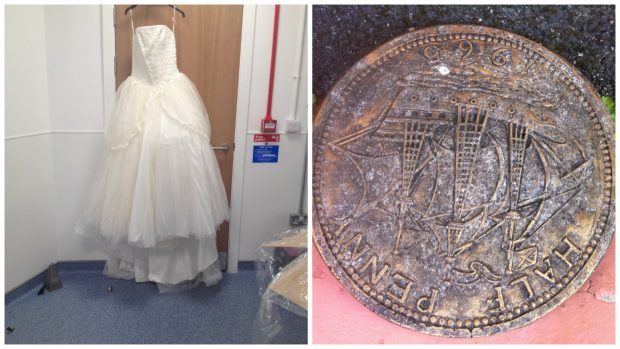 A wedding dress and ornamental stone are just two of the 80,000 items of lost property that have been handed into Police Scotland over the past year.
The wedding dress was handed into the Glasgow office and the stone in Dumfries. Angela Blair, National Productions Manager for Police Scotland said: "we would really like to be able to reunite the dress with its owner.
"I also hope the owner of the ornamental stone will see the photograph and collect it, as it's very distinctive.
"We would encourage anyone who has lost an item to use our online form to report lost property. The information you provide is checked against the found property we have and owners contacted if there is a match. We have been able to reunite many owners this way."
An urn containing ashes was received and has recently been reunited with its owner.
Other unusual items that have been handed in include; a rowing boat, dinghy, life size figure/statue, drone, picnic bench and even someone's false teeth.
Most items that are not claimed within three months are passed onto the monthly Police Scotland auction. However, a new trial scheme has seen bicycles given to various charities across the country.
'Coming Home' which helps support injured service personnel and the 'Bike Station' are both charities that bikes are being donated to.
Sergeant James Sinclair, from Police Scotland, said: "We decided that instead of selling on unclaimed bicycles at police auction, we would donate the recovered bikes and bike parts.
"The charity provides a valuable service to the community, repairing bicycles and selling them on at an affordable rate, thereby encouraging people, who may not have been able to afford a bike, into cycling."