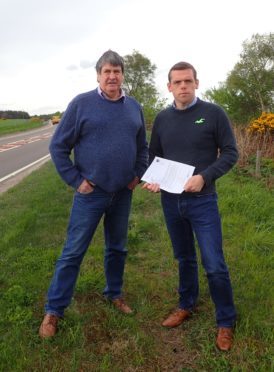 The First Minister has been urged to intervene in a row over whether a cycle path on the A96 Inverness to Aberdeen road exists.
Moray MP Douglas Ross claims he has been "blacklisted" by Transport Scotland in his attempts to investigate the possible route between Brodie and Forres.
The Conservative politician insists he has been told by the Scottish Government agency that any future correspondence about the matter will be filed but not dealt with.
But yesterday the transport body explained it had "not refused" to engage with the MP and will shortly respond to a recent letter from him.
The development comes shortly after Mr Ross wrote to Nicola Sturgeon in order to ensure he can continue to contact Holyrood ministers.
He said: "It's a sad state of affairs when constituents in Moray cannot ask questions of the Scottish Government, without fearing they will be blacklisted from doing so.
"They have rightly come to me to raise their concerns for them and now, I too, have been told I won't get an answer. It's shocking.
"The issue of the cycle path between Brodie and Forres needs to be addressed."
Dyke resident Neil Jeronim has been pressing for the path to be maintained for the last decade.
A route used to be accessible but has now become overgrown. Transport Scotland has explained the path was never considered "formal" and a separate safer route runs between the village and Forres on quieter roads.
Mr Jeronim said: "Maybe Transport Scotland don't want to know there is a path there."
A Transport Scotland spokesman responded: "We have not refused to engage with Mr Ross and a response will be sent to his most recent letter shortly.
"Correspondence on operational matters is, as a matter of routine, answered by Transport Scotland and we will always engage with elected members on matters raised by them on behalf of their constituents.
"There has been frequent communication on this topic since 2008 and Transport Scotland has previously offered to meet with Mr Ross regarding this matter."