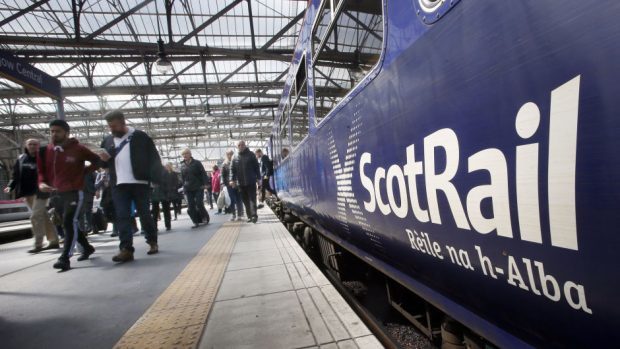 ScotRail has come under fire for cancelling seat reservations on trains linking Aberdeen and Inverness with the Central Belt.
Transport Secretary Michael Matheson admitted Transport Scotland felt the situation was "not satisfactory" after the decision was taken, at the height of the busy festive season, to prevent passengers from booking seats for six months.
ScotRail has been attacked by furious rail goers and the RMT union for taking the step.
The operator claims it can no longer guarantee seats because of the late delivery of refurbished trains that are supposed to speed up InterCity routes.
The reservation system has been thrown into disarray because three different types of train with incompatible seating arrangements are operating on the routes.
Just days after he announced  he would be terminating Dutch rail operator Abellio's contract three years early, Mr Matheson expressed his frustration at the reservation cancellations.
Mr Matheson's view was outlined in a letter to North East Labour MSP Lewis Macdonald, who challenged the Transport Secretary about ScotRail's decision.
"Assigned seating on InterCity services is an operational matter for which ScotRail is responsible, however Transport Scotland has made it clear to ScotRail that its decision temporarily to abandon seat reservations on these InterCity services is not satisfactory," Mr Matheson said in his letter.
"Transport Scotland expect ScotRail to reintroduce the reservations service as soon as possible."
Mr Matheson went on to explain that ScotRail made the change as a result of the delay in delivery of refurbished high speed trains by Angel Trains, which own the vehicles, and Wabtec, the company refurbishing them.
Mr Macdonald, meanwhile, said it was "outrageous" that ScotRail had cancelled reservations at the busiest time of the year.
"I am glad the Scottish Government agrees with me that this is unacceptable behaviour, and that they have told ScotRail to sort it out as soon as possible," Mr Macdonald said.
"It is disappointing, though, that Scottish Government ministers do not have the power to instruct ScotRail to make seat reservations available to passengers.
"That shows the limits of the franchise system, which gives private companies control of our railways.
"I urge ScotRail to do as the Government have asked them, and restore seat reservations as soon as possible.
"While it is too late to restore confidence in the current operator of ScotRail, it would at least make journeys between Scotland's cities more bearable at this time of year if passengers with luggage could actually book a seat."
A ScotRail spokesman said: "We have been badly let down by our high-speed train suppliers Wabtec and Angel, which means we don't have as many upgraded trains as we should have had at this point.
"As a result, for an interim period of time we have replaced reservations."