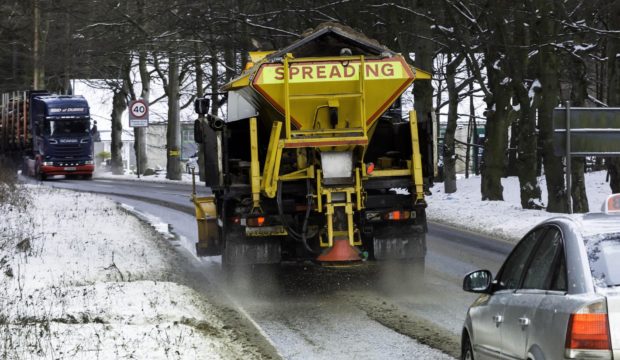 Aberdeenshire residents could be urged not to travel – if coronavirus impacts council staff numbers when the roads need gritted.
Extra local authority workers are already being drafted in for training on how to treat the north-east's roads in case of high absences this winter.
The council has announced roads treatment will take priority over "less critical" activities should the need arise in the pandemic.
But roads bosses are warning the public could be left stranded at home if there are staff shortages and only priority roads, footpaths and bike lanes are treated.
Contingency plans are being drawn up for this winter, after a warning coronavirus could "severely impact availability" within its 200-strong team.
It follows Aberdeen City Council warning Covid-19 could force staff to leave some routes untreated in icy conditions, if there was an outbreak among staff.
Aberdeenshire Council is planning for similar in the most extreme circumstances, and bosses have identified a "resilience road network focusing on the top priority roads" in case resources – be it staff, salt, vehicles or fuel – become scarce.
As in previous years, local farmers could be contracted to help maintain minor and rural roads if needed.
But the local authority is well-stocked going into the winter months, with salt stocks at their maximum 29,000 tonnes.
Deliveries are expected to continue through the colder months and backup suppliers have been identified if the normal supply chain is affected by the virus.
During a typical year, the local authority will use around 45,000 tonnes of salt while treating its 3,424-mile road network.
The council is introducing additional cleaning measures for its 54 gritters and support vehicles as well.
Shift patterns will be altered in an attempt to limit the chances of staff spreading the virus at roads depots too.
Head of roads Philip McKay said: "Covid-19 measures, such as staggered start and stop times to ensure physical distancing, together with enhanced vehicle-cleaning regimes do have an operational impact but we are managing these to minimise any impact on the travelling public.
"As with many coronavirus-affected activities, we will need to work in partnership with the public.
"If we do experience spells of very severe weather, or our ability to carry out winter maintenance activities is reduced, we would ask that people reconsider their travel plans, make allowances for the conditions and make sure they are well prepared."
Aberdeen councillors will meet tomorrow to learn more about the threat Covid-19 poses to winter roads treatments – including hearing how a significant outbreak within the workforce could leave roads in large areas of the city untreated.
Highland Council has as well admitted workplace absences could impact gritting services.
On Monday, First Minister Nicola Sturgeon told The P&J: "Salt supplies and the work to keep roads running through severe weather is all part of our winter planning.
"We engage, on an ongoing basis, with councils on all aspects of that and where there is period of bad weather predicted or being experienced the Scottish Government resilience arrangements come into play as well."