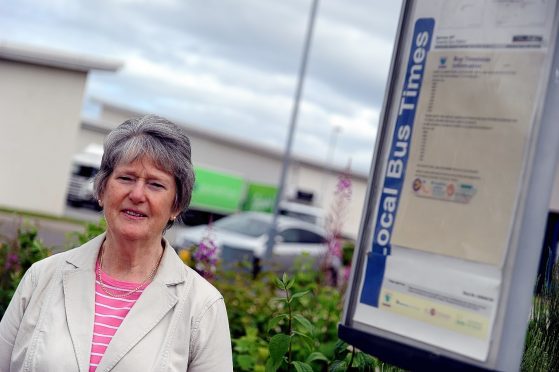 A Moray pensioner is campaigning to secure the future of bus routes that help vulnerable residents get about Elgin.
Fiona Oswald says Deveron Coaches's 340 and 341 services have offered a lifeline to residents in the south of the town, who would otherwise struggle to get about independently.
But the routes were established only on a temporary basis, and with months left until the contract runs out she has launched a campaign to make them a permanent fixture.
The 68-year-old is acting on behalf of more than 100 users of the service, who have signed a petition to call for their continuation.
Yesterday the retiree said the route was ideal for people needing to get Linkwood Medical Centre.
Mrs Oswald said: "There are pensioners and people with medical conditions who rely on this bus, as it is the only one that comes around that part of Elgin.
"It's the first time there's ever been a direct service of this nature, and it seems unfair to just give it to us then take it away after an 18-month spell."
Mrs Oswald has now enlisted the help of Moray MSP Richard Lochhead in highlighting the campaign.
He said: "I commend Mrs Oswald for raising these issues on behalf of her local community.
"There are a lot of new housing developments in that area, and those who require public transport should be able to access it locally.
"I will be taking forward the concerns of the users of this service, it's important that older or disabled people are able to have public transport."
The 340 route takes in Elgin's bus station, Tesco, Hamilton Gardens, Elgin Academy and Dr Gray's Hospital.
The 341 goes south from the bus station, past Moray College and Linkwood Road to the medical centre.
Deveron Coaches said it would be willing to continue the 340 service, but that the decision was at Moray Council's discretion, and that if it were to go then the 341 would "probably" also be axed.
A council spokesman said that the future funding of the service would depend on developer contributions from the Robertson and Scotia housing firms.
He added that the matter would be discussed in the coming months.