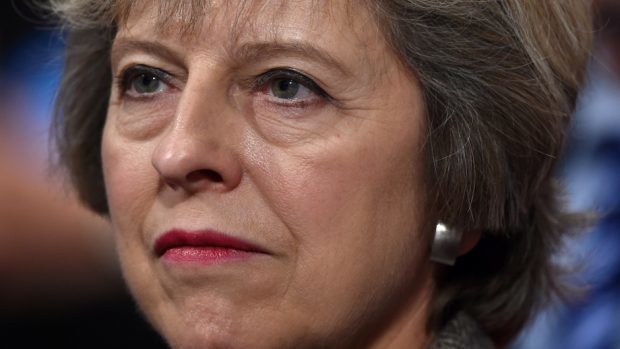 Theresa May will set out plans today to steer her party and the country down a path towards the "new centre ground" of British politics.
Pitching herself as a prime minister for the working classes, she will describe her vision for a UK that "works for everyone".
She will also take aim at Labour's "sanctimonious pretence of moral superiority". And she will pledge a government that "steps up and not back to act on behalf of the people".
Mrs May will be introduced on the main stage at the Conservative conference in Birmingham by Ruth Davidson.
The Scottish Tory leader has enjoyed a high profile this week and hinted yesterday she might consider a future move to Westminster.
She fuelled speculation at a fringe event when she declared she would be staying out of the UK Cabinet "for some time" because she had a job to do.
Formally addressing conference for a second time after her Brexit speech on Sunday, the Prime Minister will tell delegates: "I want to set our party and our country on the path towards the new centre ground of British politics.
"Built on the values of fairness and opportunity – where everyone plays by the same rules and where every single person, regardless of their background or that of their parents, is given the chance to be all they want to be."
Attacking Labour, she will brand Jeremy Corbyn's party "not just divided, but divisive" and determined to "embrace the politics of pointless protest that doesn't unite people but pulls them further apart".
Mrs May will add: "Let's have no more of Labour's absurd belief they have a monopoly on compassion. Let's put an end to their sanctimonious pretence of moral superiority."
In what will be viewed as a direct message to those who backed Brexit in the EU referendum campaign, she will say: "Just listen to the way a lot of politicians and commentators talk about the public.
"They find their patriotism distasteful, their concerns about immigration parochial, their views about crime illiberal, and their attachment to their job security inconvenient.
"But a change has got to come. It's time to remember the good that government can do.
"[It's] time to reject the ideological templates provided by the socialist left and the libertarian right and to embrace a new centre ground in which government steps up – and not back – to act on behalf of the people."
In her speech, Ms Davidson will urge other parts of the UK not to believe SNP assertions that Scottish independence is unstoppable.
The Edinburgh Central MSP will say: "There is nothing inevitable about the break-up of this great nation and I, for one, will fight it every inch and so will thousands with me."
Yesterday, Scottish Secretary David Mundell accused the SNP of putting their "obsession" with independence above everything else. He told activists and members: "They have come to think they have a divine right to hold power….we know they don't."