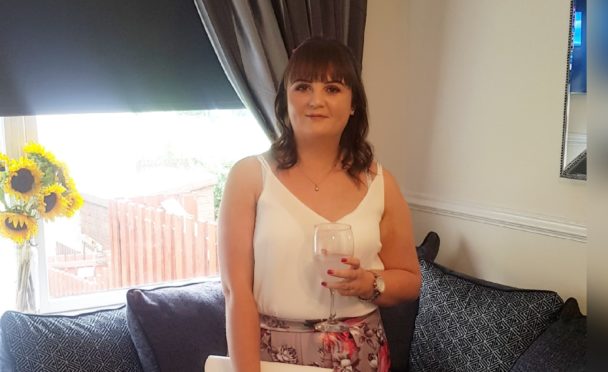 New research from the charity Versus Arthritis has revealed the true affect of the condition on patients' relationships.
The Defying Arthritis at Every Age report found almost a third of people with arthritis found that their condition had led their relationship to become "strained," and nearly one in five say it caused an entire relationship breakdown.
The figures show how young people are disproportionately affected, with over two thirds of people aged 16-34 with arthritis having experienced a strained relationship, while more than half say their relationship broke down.
Speaking on her own experience, Jade Anderson, from Falkirk, explained that the issue can be "embarrassing" to discuss.
She found out she had arthritis after a growth appeared in her knee during high school, and after a medical examination was told she had the condition.
While the road to where she is today has had "challenges", she credits fiancé Grant as "such an important part" of the journey.
She said: "People still do see arthritis as an older person's issue, but it affects many young people and that can really affect dating and romantic life.
"When I met my current partner, Grant, my symptoms were more or less under control.
"However it still came to be embarrassing during flare-ups, when I'd need help getting into the bath or have to explain how joint pain can affect my day to day life.
"Fortunately Grant has been amazing – and it is important to find that right person who you can have an open discussion about arthritis with.
"It takes a huge weight of your shoulders to have someone to help."
Versus Arthritis's report also uncovered the condition's impact on millions of people's sex lives.
And the charity's report found that two in five people said they worry about being physically intimate because of their arthritis, while over a third actively avoid it.
While the physical pain and fluctuating nature of the condition are key factors, the report identified the chronic lack of public understanding and dismissal of the condition as significant contributors to the situation.
Stewart Long, director of involvement and services at Versus Arthritis, said: "Arthritis causes millions of people of all ages to live in pain every day, and chances are you know someone living with it. But it's simply not spoken about.
"This silence means people don't feel able to open up about how they are feeling, physically and emotionally, even to the people closest to them.
"As a result, it's ruining relationships and preventing people from meeting new partners.
"It shouldn't be like this."
Rachel Davies, counsellor at relationship support charity, Relate, added: "Long term health conditions such as arthritis can dramatically change relationship dynamics between couples – one day you may be independent and active, but the next day you might be in real pain and need help to do the simplest of things.
As couples celebrate #ValentinesDay, @VersusArthritis is calling for a nationwide conversation about the impact of arthritis.

Many with arthritis say the condition is affecting their relationships and ability to be intimate.

Find out more: https://t.co/TUmaTxpJeU

— Dr Ellie (@Dr_Ellie) February 14, 2019
"Don't let arthritis define your relationship – it's important that you also talk about other things and do things together even if those things are less strenuous.
"Talking about it also helps you feel less alone with the emotions you may be experiencing."
The charity is calling on people to declare themselves Versus Arthritis so that arthritis is no longer dismissed or ignored.
To add your voice, go to www.versusarthritis.org/defyarthritis
Last year, Versus Arthritis revealed further statistics that showed the extent of isolation that young people with the condition face.
To read more, click here.