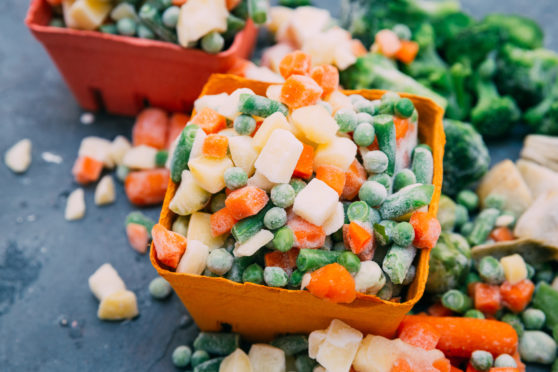 A major recall of 43 frozen vegetable products – including some on sale at Tesco, Aldi, Lidl and Sainsbury's – has been issued over fears it may contain a deadly bacteria.
The products, including frozen mixed vegetables and frozen sweetcorn, have been recalled by the Food Standards Agency (FSA).
An outbreak of Listeria was first detected in 2015 and has been linked to nine deaths.
The source has now been linked to frozen vegetables produced by a Hungarian company in 2016, 2017 and 2018.
According to the FSA symptoms are similar to flu including a high temperature, muscle ache or pain, chills, feeling or being sick and diarrhoea.
Those over 65, pregnant women, unborn babies, babies less than one month old and those with a weak immune system are most at risk.
Customers are advised, if they have bought any of the products listed below, to return them to the store for a refund.
Aldi four seasons frozen vegetable steamers – all codes to Jan 2020
Aldi frozen four seasons mixed vegetables – all codes to Jan 2020
Aldi four seasons supersweet sweetcorn – all codes to Jan 2020
Lidl frozen green grocer supersweet corn – Jan 2020
Lidl frozen freshona vegetable mix – July 2020
Iceland frozen mixed vegetables – 900g, 22 June 2020
Sainsbury's frozen special mixed vegetables – Jan 2020
Sainsbury's frozen basic mixed vegetables – Jan 2020
Sainsbury's frozen rice broccoli and sweetcorn – Jan 2020
Sainsbury's frozen mixed vegetables – Jan 2020
Sainsbury's frozen carrot, broccoli and sweet corn – Jan 2020
Tesco frozen broccoli, carrot and sweetcorn steamer – all codes to Jan 2020
Tesco frozen every day value sweetcorn – all codes to Jan 2020
Tesco frozen mixed vegetables – all codes to Jan 2020
Tesco growers harvest frozen mixed vegetables – Jan 2020
Tesco frozen sweetcorn – Jan 2020
Tesco frozen mixed vegetables and peppers – Jan 2020
Tesco broccoli frozen sweetcorn, peas and spinach steamer – Jan 2020
Tesco frozen growers harvest carrot peas and sweetcorn steamer – Jan 2020
Tesco frozen growers harvest mixed vegetables – Jan 2020
Waitrose Essential supersweet sweetcorn – E1kg – Oct 2019 to Nov 2019, Aug 2019
Waitrose Essential mixed vegetable – E1kg – all up to Dec 2019
Waitrose fine cut vegetable steamer – E640g (4x160ge) – Jan 2020
Waitrose Love Life vegetable medley steamers – E640g (4x160ge) batchs P6163, P7021, P7080 – May 2018, July 2018, September 2018
Pinguin Frozen Sweetcorn – best before July 2020
Pinguin Supersweet Sweetcorn – best before July 2020
Pinguin Sweetcorn – 1x10kg, July 2020
Pinguin supersweet corn – 1x10kg – July 2020
Pinguin frozen mixed vegetables – 1x10kg – July 2020
Pinguin mixed vegetable – July 2020
Pinguin Frozen cut beans – July 2020
Pinguin frozen golden rice and vegetables – July 2020
Ross mixed vegetables – 12x450g, July 2021
Ross mixed vegetables – 10x1kg, July 2020
Ross mixed Country vegetables – 10x1kg, July 2020
Ross sweetcorn – 12x450g – July 2021
Ross sweetcorn – 10x1kg – July 2020
One Stop frozen sweetcorn – all codes to Jan 2020
Growers pride mixed vegetables – 12x450g – July 2021
Growers pride mixed vegetables – 12x750g – July 2020
Growers Pride supersweet sweetcorn – 12x750g – July 2020
Growers pride supersweet sweetcorn – 12x450g – July 2021
Independent mix vegetables – July 2019