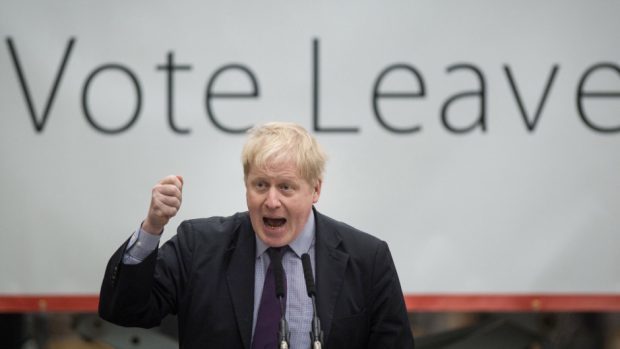 Scotland along with the rest of the United Kingdom is facing a unique opportunity to take back control on June 23.
Scots have the chance to be double winners.
They will benefit from the advantages the UK as a whole reaps if we leave the EU. But they will also gain extra money and democratic powers through their parliament over sweeping areas of national life from farming to education.
Britain pays £350million every week as a membership fee for the EU, with £30million of it handed over by Scotland, enough to hire nearly 1,400 extra nurses.
Only half that amount of money comes back to the UK in grants and Brussels dictates in nano-detail exactly how it must be spent.
By leaving the EU, we would not have to cut a penny from the money that goes to farmers and vital regional support schemes.
Even after funding these, Scotland would still have many millions of pounds left over for its own priorities, such as the NHS.
Leaving the EU would be a great step forward for the Scottish Parliament and government.
Scotland found out the hard way last year how the European system bulldozes democratic decisions. The European Court of Justice struck down the SNP's policy of introducing a minimum unit price for alcohol.
Whatever one thinks of whether the basic idea is a good one, it was in the manifesto of a party elected to government with an absolute majority – but that cut no ice with the judges in Luxembourg.
The north-east is one of the great centres for Scottish and British deep sea fishing.
By leaving the EU, we will be able to secure a fairer deal for all our fishermen. We will be able to protect both stocks and the marine environment, while controlling EU access to our waters.
In fishing, farming and so many other areas, voting to leave would give Scotland the first real chance since devolution to design and debate policies democratically to suit the country's own interests, not just follow the instructions of unelected Brussels bureaucrats.
Leaving the EU will also revolutionise the prospects for teenagers in Scotland by safeguarding free tuition. It is scandalous that because of European rules, taxpayers' money is used to squeeze Scottish students out of top universities such as Aberdeen by subsidising free degrees in Scotland for young Europeans.
This hidden cost of EU membership swallows about £80million a year. And Scotland has no choice because Brussels bans it from charging EU students any more for their courses than its own residents pay.
This money should be directed where it belongs – into the education of young Scots.
And some of it could also be used to provide bursaries for students from lower income families, turning education into a true engine of social mobility.
As well as the powers Scotland will win for itself, leaving the EU will also underline the huge benefits that our own great Union brings to Scotland.
At the moment, the UK is shackled to a declining corner of the world. The EU countries' share of the global economy has shrunk from 34% to 24% over the past 35 years.
We are held back from reaching free trade deals with the great economies of the wider world because the EU negotiates on our behalf.
Just think of the opportunities for new jobs and prosperity if we could regain control.
Take India. Despite talking for nine years, the EU has got nowhere in negotiating a trade deal with Delhi. If we could do it ourselves, it would open up a huge market for goods such as Scotch whisky, which currently has to pay a whacking 150% tariff on every bottle the Indians drink.
Life will be easier for businesses outside the EU. Although only one in 20 British firms trades with Europe, every single one of them has to comply with bureaucratic EU rules that cost the economy £600million a week.
Once we get back control, we will be able to keep the rules we need, while freeing businesses from the rest so they can power ahead and create more jobs.
The Remain supporters tell us that the EU would put up trade barriers with Britain if we voted to leave. This makes zero sense. They sell £68billion a year more to us than we export to them.
How many shopkeepers do you know who tell their best customer to shove off? They will be eager for friendly, open, free-trading links with Britain.
By leaving, we will also regain control of our chaotic immigration system that allows in a quarter of a million people a year from the EU willy nilly – that's the population of Aberdeen, Arbroath and Montrose combined.
This free-for-all brings huge pressure on schools and hospitals. We will be able to run a fair, organised system that welcomes people based on their skills and what they can contribute, whether they are from Athens, Adelaide or Addis Ababa.
So many of the hyperventilating scaremongers who tell us the economy will fall to pieces and World War III may start if we leave the EU are the same people who warned us of disaster if we left the Exchange Rate Mechanism in the early 1990s or stayed outside the single currency a few years later.
These so-called experts got it spectacularly wrong then and they are just as wrong now.
The eurozone is a job-destruction machine that has ruined the prospects of a whole generation in southern Europe, with nearly half of young people in Greece and Spain out of work.
The solution the eurozone leaders have come up with is going full pelt for a political union that will diminish British influence even further.
We have a bright, secure future together outside the EU. Being stuck inside this declining, anti-democratic block is now looking like the risky bet.
For a free, secure future for Scotland and for Britain, we should vote Leave on June 23.