 Thanks to the ARCHIE Foundation and generous donations from pupils in the north-east, Uganda now has its first children's operating theatre.
Ashleigh Barbour travelled to Africa to find out the difference it will make to a country that struggles to help itself.
It is 6pm in Uganda's capital, Kampala, and my time with the ARCHIE Foundation in Africa is almost at an end.
It has been an astonishing few days filled with incredible sights and meeting inspirational people as the charity opened the country's first ever children's operating theatre.
However, a quiet journey back to the airport is the last thing I'm told to expect – the most astonishing scenes are yet to come.
We have left our hotel three hours early to conquer our biggest challenge so far – Kampala's monstrous traffic jam, considered one of the worst gridlocks in the world.
Between roughly 3pm and 9pm all roads out of the capital come to a halt as millions of people who came into the city to work all try to get out.
It is actually faster to walk than drive these routes, and we are overtaken by hoards of people on foot as we travel at a snail's pace by van (around 4km per hour, if that).
It feels like we're on the set of a film – a mass evacuation – as we watch them flee the city in mass.
Motorbikes, which are known as boda-bodas in East Africa, dart in and out of the gridlocked vehicles, snaking their way to the front of the queues.
There are around 300,000 boda-bodas on Kampala's roads and are one of the cheapest and easiest ways to get about.
Around 80 percent of young people earn a living by picking up and dropping off passengers, and their battered bikes are helping combat youth unemployment and are keeping them off the streets.
But they are also one of the biggest strains on Uganda's health service, maiming and killing thousands of people each year.
Every day, the country's main hospital receives around 20 accident cases from boda-bodas, accounting for more than 40 percent of trauma cases and almost two-thirds of the hospital's annual surgery budget.
More than 5,500 bikers were killed in Uganda last year alone; in Scotland, the number of fatalities across all modes of transport was 172.
Officials are attempting to introduce regulations that will make the roads here safer, including mandatory registration, first-aid training, reflector jackets and helmets.
But judging by the four people I have just counted on the back of one bike – with just one helmet between them – these regulations will be impossible to enforce.
"I've seen passengers holding mirrors, keyboards, chickens… You name it they will carry it," ARCHIE's project director, David Tipping, tells me as I look out the window aghast.
It is fascinating to watch, however I catch sight of a small child on the back of a boda-boda gripping onto the driver for dear life, and the grim reality of this mode of transport comes to life.
Sitting in this horrendous jam once feels like a novelty, but sitting in it every day would be a recurring nightmare.
"People at home ask each other how the weather is today. People here ask each other how the jam is today," says ARCHIE's chief executive, Mr Cunningham, who has sat through this before.
Two hours later and another worrying reality of this logjam sets in.
I can hear the blazing siren of an ambulance behind us, but the flashing light is nowhere to be seen through the never-ending mound of traffic at our rear.
There is absolutely no way it is getting past.
Half an hour it is still nudging its way forward. An hour later, it's still no further.
"The traffic will not move to let it past," says Professor George Youngson, ARCHIE trustee and a paediatric surgeon who has visited this country several times before.
"One of the biggest problems children's surgeons have here is dealing with youngsters arriving at hospital too late for help.
"Kids come to hospital late for a variety of reasons – this is yet another one."
During my short few days in this fascinating country, I have been given a unique insight into a world which I doubt I will ever properly be able to understand.
At home, young people are our priority – we spend millions on hospitals and treatments for them, and work hard to ensure our future generation will flourish.
Here in Uganda, children have the lowest standing in society – there is no budget for their healthcare and there has never been a children's surgery until now.
"Men come first then women. Children are at the bottom of the rung here," says Mr Cunningham.
"If there is an adult that needs an operation and a child, the adult will take priority. They think adults have more to give."
By the time you've got to the bottom of this page, the life of another child in Uganda who might not have seen another day will have been saved.
The country's three paediatric surgeons now have unlimited access to theatre time, a far cry from the two mornings a week they were granted before.
And it is because of children in the north-east of Scotland who fundraised – and still are – that this has been possible.
They might not be close enough to see it, but they have transformed Ugandan healthcare in a way doctors never thought would be possible.
In return, they want you to know how truly grateful they are.
For Professor George Youngson, the north-east surgeon who realised the potential for this project and urged ARCHIE to make it happen, he is proud that an incredible relationship has been formed between young people 6,500 miles across the world.
"In the big scheme of things, it's actually been a relatively small amount of money for something that will have a massive impact on the healthcare system in Uganda. For me, it's been one of the most gratifying exercises of my life," he says.
"You can be the best wordsmith in the world, but there is something about this place you will never be able to capture in words alone.
"You need to see it to really believe it."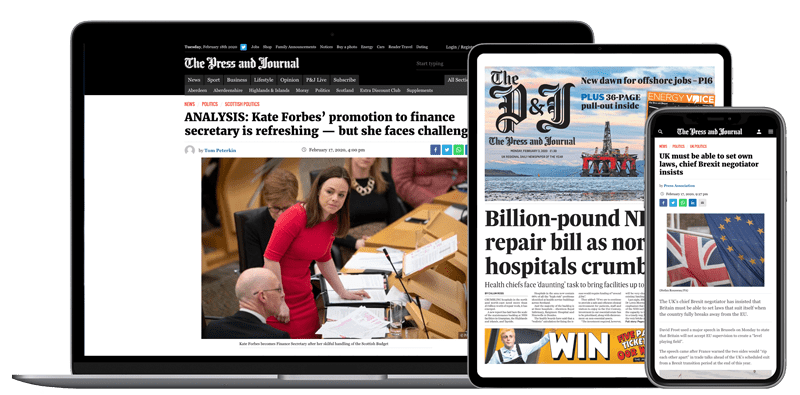 Help support quality local journalism … become a digital subscriber to The Press and Journal
For as little as £5.99 a month you can access all of our content, including Premium articles.
Subscribe