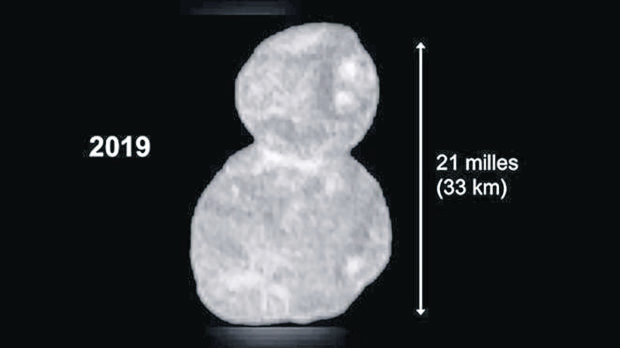 View from the midden – rural affairs with MTV (Meikle Wartle Television) presenter Jock Alexander.
It's been an astronomical wik in the village. I have been transfixed by cosmic matters, and sitting oot on the roof of my byre wi' a thermos o' het tea and my telescope.
A few wiks syne, I set oot tae spy the Geminid meteor shower as they shot, like incandescent coloured arcs o'er the northern hemisphere. However, it was Baltic, so I came in for a heat and missed it.
Nae bother, though, as noo I've become engrossed wi NASA's latest big news, fit is the maist distant ever exploration of a solar system object by their New Horizons spacecraft.
This object is wee, icy, far fae the sun, and 6.5 billion kilometres fae human life. So of course, it's very much akin tae Meikle Wartle.
It has been cried 'Ultima Thule', fit I thocht wiz een o' that Transformers robots, but is in fact, a 21 miles long lump of ancient ice and rock fit orbits the sun every 300 years.
Sat in the pub last nicht watching video o' the first clear shots of it, ab'dy wiz amazed by it's distinctive 'Snowman' shape. But it wiz pub regular Beardie Davie Porter fa said it looked mair like twa rowies stuck thegither.
Nivver has a truer word been spoken. So noo of course, Feel Moira his got it intae her heid that it is twa massive rowies oot on the edge of space, and has taken this as proof that there is intelligent life oot there.
I dinna agree wi' that masel. There's a mair than a pucklie rowies in Aiberdeen, but nae sign o' intelligence there!
Cheerio!
Cosmo Ludovik Fawkes Hunte, 13th Earl of Kinmuck
I see that the Government is facing the usual cacophony of catcalls from the great unwashed about its very sensible Brexit preparations.
This time it relates to the Seaborne Freight Ramsgate to Ostend contract. Well, yawn, yawn, go steam clean your cummerbund and eat a nice slice of pie with piccalilli, yawn, yawn and yawn again.
Apparently, the naysayers say, awarding a major contract essential to the continued transportation of goods between Europe and the UK without putting it out to a proper tender is poor form.
Apparently, making the award to a brand new company that has no track record of doing this sort of thing, or indeed, ships, is in some way a bad thing.
And apparently, if it turns out that that company's published terms and conditions have nothing to do with seaborne transport and seem to have been nicked off a pizza delivery service, this, for some reason, is something to be embarrassed about.
Poppycock and piffle! This is the kind of gutsy derring do that will take an independent Britain back to the top of the tree!
Her Majesty's sovereign government didn't monkey about with the niceties of 'due diligence' and 'relevant experience' when Britannia ruled the waves! We turned up with gunships, sank anyone who opposed us and took what was rightfully ours!
And as for the cribbing of the terms and conditions from an Italian restaurant, well what could better encompass the essence of Brexit than nicking something back from Johnny Foreigner?
You mark my words, the good ship Britannia is safe with Seaborne Freight at the tiller!
Even if they lack the maritime experience to know what a tiller is!
Davinia Smythe-Barrett, ordinary mum
Like any ordinary mum, one of my biggest anxieties is ensuring that my children eat a balanced diet.
Obviously Eugené, my dietician who has designed our weekly all-organic, coconut-oil rich Meal Plan, helps. So does Antoine, our personal chef. But there's still that element of the unknown when Emmeline and Fidel head into town with their friends.
Who knows what they might get peer-pressured into consuming? Last week I spotted some of Fidel's pals gorging themselves on non-fair-trade coffee, mass-produced non-artisanal doughnuts and something worryingly called a "scotch pie" (the good news is it doesn't actually contain whisky – but it appears to be some form of charcuterie vol-au-vent).
I was delighted to hear, therefore, that even the most calorific and trans-fat rich of high-street pastry purveyors are trialing the release of a Vegan sausage roll. The trial does not include Aberdeen outlets, sadly, but I'm certain that the customer base will love this meat-free alternative and demand additional vegan products.
In fact, I've already done some market research, offering our eco-sensitive window cleaners, Dean and Ackie (their detergent, they assure me, is 100% gluten free) a blind taste test of alternatives to some of the items they regularly buy for lunch. Would they swap a 'steak bake', for a chick pea, kale and soya tartlet? Or a sausage softie for a Japanese mushroom blini?
And do you know what? It transpires that they have far more discerning palates than one would expect. I even heard Dean say to his colleague, "I da ken fit it is, but it tastes like shiitake".