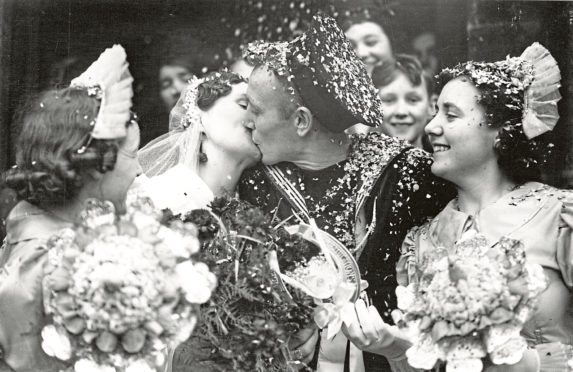 Drizzle was beginning to fall outside a grand Aberdeenshire country hotel where a statue in the gardens was glistening under raindrops.
Droplets were also splashing down the bare shoulders of a woman standing stoically in the rain.
She looked as pretty as a picture, resplendent in a wedding dress as she clutched a wet bouquet.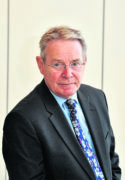 She was the bride, of course, who was managing to preserve her serenity and dignity in the face of adversity.
It was her biggest day, even if a downpour and the Covid curse on wedding ceremonies was trying to make it the flattest day of her life.
Her groom, meanwhile, was beaming from ear to ear with joy and pride.
We hear so much about Covid wrecking some of our biggest personal milestones in life, such as weddings and funerals.
But this was the first opportunity I'd been given to glimpse one in our changed world.
These cruel times appeared to have slashed the guest list to just the happy couple and parents.
They were posing now for the wedding photographer outside, who battled on despite inevitable distractions threatening to overshadow an occasion of such modest proportions.
A mature couple of strangers and a wet dog were in danger of straying into shot – that was us having an after-lunch stroll.
A DPD driver going through the hotel entrance in the background almost did the same.
But nothing was going to spoil their day and that was what I loved about this touching scene.
It was like a flower blossoming in the middle of a ravaged battlefield.
Human nature was pressing on bravely through a pandemic minefield and I was privileged to see them cocking a snook at Covid for those few fleeting moments.
They say "love conquers all" – an expression of hope as powerful today as it was in ancient times.
Roman poet Virgil coined it first in epic works born out of adversity and heroic struggles.
Is a Covid wedding more meaningful and symbolic than those in "normal" times due to the accompanying sacrifices and risks?
This plucky young woman battling on regardless reminded me of grainy old photographs of Second World War brides.
The catastrophic global upheaval caused by the current pandemic has often been compared with the war.
Extraordinary old pictures of carefree brides, and grooms in uniform, never cease to amaze me as they clung to normality on a knife-edge of life and death.
They showed that the happiest times of our lives could be a beacon of love and hope even in darkest days.
These most basic and powerful human emotions can overcome almost anything.
People endured untold misery in the bloodiest days of history, but love and hope did, indeed, conquer all for the lucky ones.
October has just dawned and this is a big month for me – we were married on the 18th and our son was born on the 31st.
Actually, I should clarify that statement immediately – my son did indeed arrive on the 31st, but two years later.
A lot of water has washed under our marital bridge, but I started to wonder if I should check the foundations after watching something on television.
Yes, the utter daftness of daytime TV held me in its thrall yet again before we headed out for lunch at the hotel.
"Are you bored with your husband or wife? Is it time to walk out?" the presenters trilled.
This pointless debate had the flimsiest basis for discussion – a Sunday night drama about a couple going on a touring holiday across Europe while splitting up.
The travel backdrop was enjoyable to watch, but it was pretty silly and unrealistic nonetheless.
Presenters, agony aunts and "anxiety therapists" were working hard to whip up some marital hysteria on the topic for daytime viewers.
There is a booming "anxiety industry" on TV gorging on the worries of life caused by Covid-19 while fanning the flames.
A caller to the show said she had moved out because she was bored with her husband after 18 months, but added: "I still love him." Try sorting that one out.
"The trouble with so much uncertainty around at the moment," one anxiety therapist warned viewers darkly, "is that it causes even more anxiety." A very dire warning, indeed – if you can keep a straight face – but good news for the anxiety business.
Even if you didn't happen to be worrying too much about anything before tuning in, you might be reaching for antidepressants afterwards.
I switched this nonsense off before we dashed out, but wondered if I should ask my wife if she was happy.
As I had still not put up our new bathroom mirror, promised days ago, I thought better of it.
I'd like to think that the cement holding together marriages forged in the pandemic is more robust and likely to withstand potential threats to future happiness.
Our first minister loves a good wedding, too.
Nicola Sturgeon tweeted her admiration for a bride in Glasgow after spotting an iconic picture of her after the 10pm curfew.
She was rushing for a cab in full wedding regalia following her reception.
After endless wedding setbacks, the couple eventually escaped to the north-east for their honeymoon.
The first minister retweeted the picture, adding: "What an uplifting,optimistic photo in these tough times."
I knew what Nicola meant – I felt the same after the wedding scene I was privileged to witness.