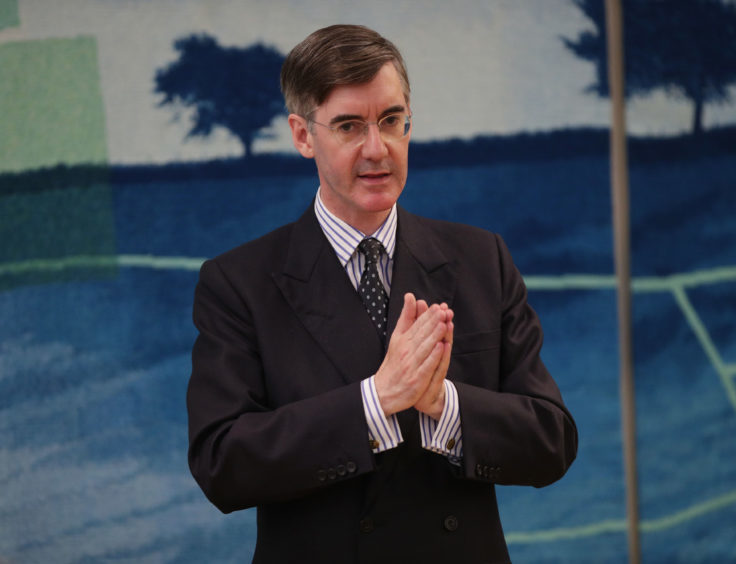 The first rule of Jacob Rees-Mogg Fight Club is don't fight. Debate. Or whatever the Latin equivalent is. "Nec pugnare. disputandum."?
For Jacob, words are the weapon of choice. Calmly spoken using the force of argument. Respecting the rights of others to disagree.
The scenes of a minor scuffle when he was invited to speak at a university last week were troubling. Even more disturbing were the attempts to drown him out and the childish rabble who wanted to silence him. Actually, let me apologise to all children.
This boorish, braying band were as unchildlike as you could get. Children are far more fair minded.
This mob, this rabble, were an embarrassment. They used their right to free speech to try to deny it to the MP.
They wore hats and hoodies and scarves and sunglasses to disguise themselves. They thought that their voices were more important than Mr Rees-Mogg's and they refused to engage in debate.
For them, intimidation and volume were the chosen tools of their ideology.
This is not about the rights and wrongs of the respective viewpoints. At a time when political discourse around the world is retreating into silos we need to listen more and shout less.
To be open to discussion, to persuasion even. To engage with each other. To be civil and civilised.
This one incident in Bristol was relatively small in itself. But it is an all too familiar sign of the times.
We saw it during Indyref. We see it now over Brexit.
It is the defining characteristic of US politics. It is a boil which must be lanced. A canker which must be removed. A stain on democracy which must be cleansed.
****
As my regular reader knows, I am a massive rugby fan. And the weekend was one of the most enjoyable, uplifting and amazing rugby weekends I have ever had.
Not, of course, our dismal result in Wales when the men's team crumbled to a humiliating defeat.
I mention the men's team because our women's side put up a far more credible performance the night before.
And I mention them because Saturday evening saw the pioneers of Scottish women's rugby gather in Edinburgh to celebrate the first international 25 years ago. Scotland versus Ireland. Raeburn Place. St. Valentines Day 1993.
A quarter of a century on, nearly every player from both sides gathered to remember and reminisce. Some travelled from the other side of the world to be there. Former team mates who had blazed the trail for their sport and their gender. Who made it possible for women's rugby to be as usual as women playing hockey, or football or athletics. Who overcame the prejudices of the dinosaurs of the day.
It was a night of reunion, rejoice and reflection. Of camaraderie and companionship. Of players reunited in the same room but never really apart. Of friendships forged a quarter of a century ago which would last forever. An evening of songs and anthems and sheer joy.
I was there because I had the privilege to be the Scotland Team Manager all these years ago. To have seen this group of young women follow their passion and take it to the international stage. To host a world cup two years later and win the grand slam just four years after starting out on the international stage.
An amazing group who earned their place in history through blood, sweat and beers.
I salute you ladies. You were the first. And the best.
*****
Last week we spoke about Brexit and fishing and the compelling need for the U.K. to take control again of our rich fishing grounds as soon as we leave the EU.
The injustice of the Common Fisheries Policy is self evident. A monstrous deal which resulted in the majority of our natural asset being taken by others. The opportunity to right that wrong is drawing near. Leavers and Remainers agree. On the Andrew Marr Show on BBC1 on Sunday, the Home Secretary singled out, unprompted, fishing as the prime example of regaining our sovereignty.
And in the Sunday Times Scotland, Envireonment Secretary, Michael Gove nailed his colours to the mast by insisting that we must decide on who catches what, where and when around our coast as soon as we quit the CFP. In other words from next year. Not in a few years time.
There is a growing consensus that we must take back that control sooner rather than later. So as the PM meets the EU today in Downing Street, let's hope that common sense prevails.
Let's have a longer transition for trade. But let's not dither or delay on fishing.
It is a unique case. Legally, practically and politically.
It is tangible evidence we have left, but a tangible benefit too. Maybe one of a just a few. But indisputably so.
It is the restoration of a natural resource under international law. Literal natural justice.
It is a Sea of Opportunity.