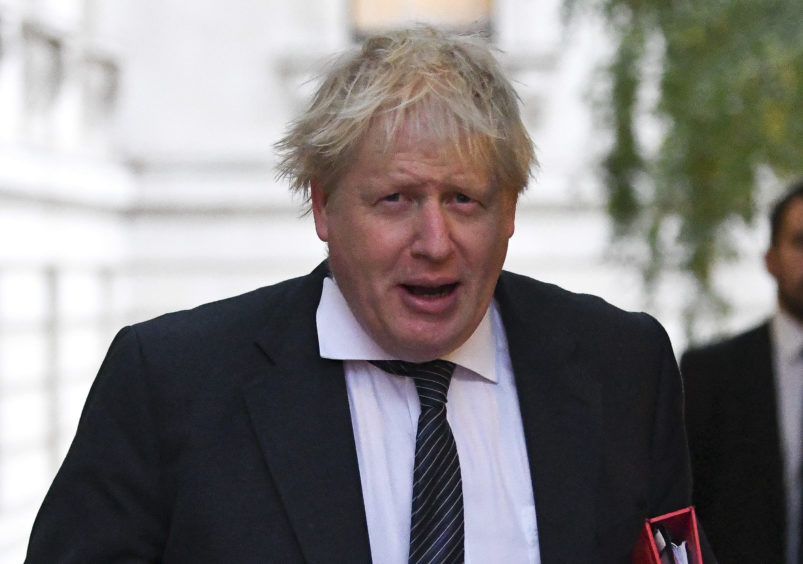 Boris Johnson described Jeremy Corbyn and Nicola Sturgeon as "yoke-mates of destruction" as he ruled out ever allowing another Scottish independence referendum.
Mr Johnson used the phrase when he was asked which of the two leaders was the greatest threat to the United Kingdom.
On his first campaign visit to Scotland of the General Election campaign, the UK Tory leader was reacting to suggestions the UK Labour and SNP leaders could strike a deal to deliver a second Scottish independence vote.
At the Roseisle Maltings outside Elgin, Mr Johnson underlined his opposition to another referendum when asked if he would give a cast iron guarantee not to hold one.
"Absolutely, there is no case," the prime minister said.
"People were promised in 2014 – absolutely clearly – that it would be a once in a generation event, and I see no reason why we should go back on that pledge."
Reacting to Scottish Labour's recent statement that they would not do any deals with the SNP, Mr Johnson said: "Pull the other one – it's got bells on.
"It's perfectly obvious that Jeremy Corbyn is going to rely on the SNP to get him into power and to do that he's done a shady deal to have a second referendum."
But SNP Westminster Leader Ian Blackford said: "Boris Johnson's stance is undemocratic and ultimately untenable.
"The simple fact is that the SNP already has a cast-iron mandate for a referendum and the Scottish people want the chance to have their say."