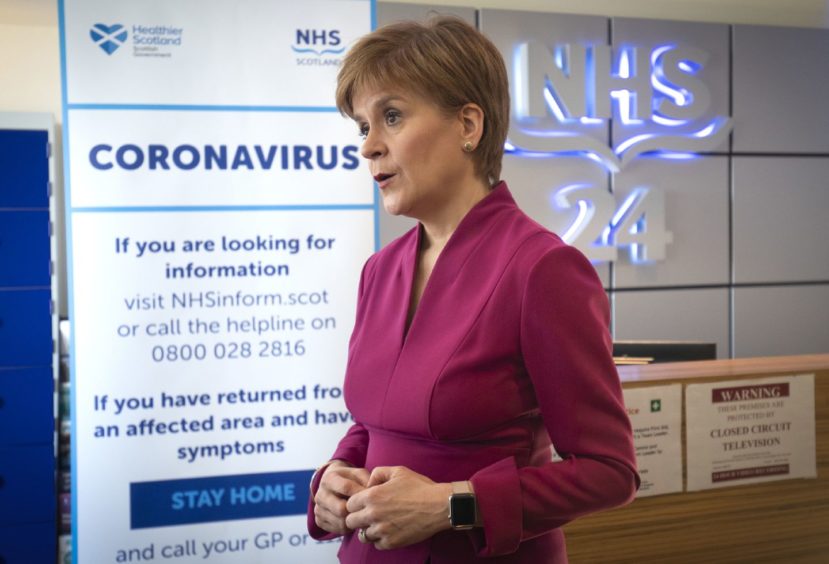 Nicola Sturgeon has said a war chest will be set aside to deliver a cash boost to strained services during the coronavirus outbreak.
The first minister told MSPs that it was "almost inescapably the case" that extra resources would be required to help frontline staff cope.
Ms Sturgeon updated Holyrood on the government's work to contain the virus, hours after it was confirmed that the number of Scottish cases had doubled from three to six.
I think it's almost inescapably the case that we will be required to provide additional resources to health and to social care, and perhaps to other parts of our public services."
She revealed that there were contingency plans in place to set up new test laboratories in Tayside and Grampian, and signalled that extra cash would be needed.
The Scottish Budget is due to be passed later today, and the first minister suggested talks would be held with the UK Government, due to reveal its Budget next week, on a coronavirus fighting fund.

Responding to questions from Scottish Labour leader Richard Leonard, the first minister said: "On the question of resources, I've made points about the Budget that we are going to pass for the next financial year today.
"But of course, when that draft Budget was put together we did not have all of the information we do now in terms of coronavirus.
"I think it's almost inescapably the case that we will be required to provide additional resources to health and to social care, and perhaps to other parts of our public services, and indeed businesses and individuals who are dealing with this challenge.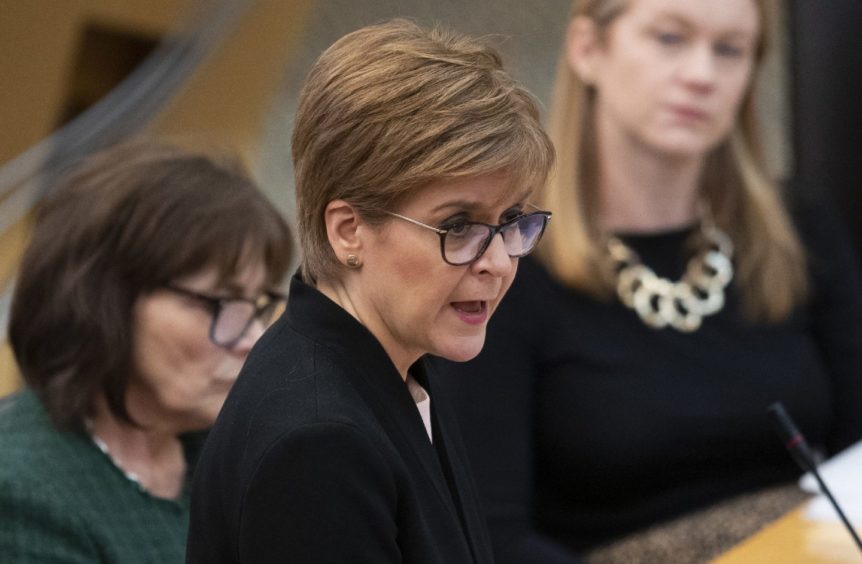 "Clearly, the Scottish Government Budget is fully committed and we will require to have discussions with the UK Government ahead of, and no doubt after the UK Budget next week, to make sure that those decisions are taken in an appropriate way."
At first minister's questions in Holyrood, Scottish Conservative leader Jackson Carlaw had earlier asked about plans to increase the number of testing centres in Scotland.
He said: "In recent weeks two testing facilities have been set up in Glasgow and in Edinburgh, with positive results sent to Public Health England for confirmation.
"Does the first minister envisage that these two labs can meet all of the anticipated demand for initial testing, or can she indicate whether there are contingency plans to further expand testing in Scotland as required?"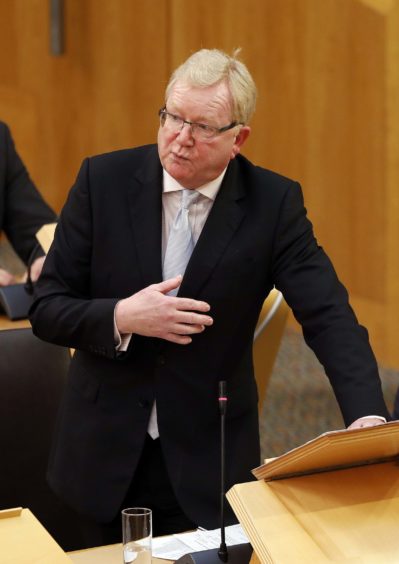 The SNP leader responded: "In terms of testing, we took early action to ensure that testing facilities were available in Edinburgh and Glasgow, there are plans to, both in Tayside and Grampian, to have testing facilities there.
"I am satisfied at this stage that we have capacity to do that."
She added that it may reach a stage when not everyone is tested, because if they have symptoms they will be assumed to have the virus.
As Scotland faces the challenge from #coronavirus I'm grateful for the effort Nicola Sturgeon has made to work with UK Government to deal with this issue.

I urge the public to follow the medical advice being published to protect themselves and dedicated frontline staff #FMQs

— Jackson Carlaw MSP (@Jackson_Carlaw) March 5, 2020
Mr Carlaw also asked about capacity of hospital beds, and Ms Sturgeon said it was currently being assessed.
And the Scottish Conservative leader questioned the first minister on any plans to call-up retired health care workers.
The SNP leader confirmed that there were contingency plans to ask former NHS staff to come back "if that is required", and that the government was in talks with trade unions and other groups to make contact with such professionals.
I would expect that to rise – possibly very rapidly – in the days to come."
Outlining the current situation, Ms Sturgeon added: "We face a potentially very serious situation and I think all of us have a responsibility to work together to make sure our response is what the people of Scotland would expect.
"Can I confirm to parliament that as of this morning we have six confirmed cases. I would expect that to rise – possibly very rapidly – in the days to come.
"I also want to stress that we are still very much in what is called the 'contain' phase of the virus in Scotland.
"If people follow the advice, if we ensure that confirmed cases are isolated and contacts are traced and given appropriate advice on hand and other personal hygiene, then we can continue to have a degree of success in stopping this spreading from individual to individual, and I think it's important we do that for as long as possible.
"That said, I think we all recognise that it looks increasingly unlikely that we will be able to contain this outbreak indefinitely, and therefore it is likely we will move into the 'delay' phase of the virus, and that may be reasonably soon, but that will guided by the latest advice."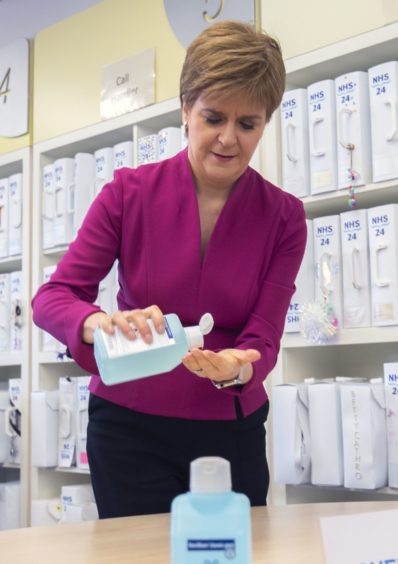 It was confirmed earlier today that the number of cases in Scotland had doubled from three to six, including a second case in the Grampian area.
Chief Medical Officer for Scotland Dr Catherine Calderwood confirmed a further three patients in Scotland had tested positive for COVID-19.
The patients were said to be clinically well and are receiving appropriate care.
The patients were from the Forth Valley, Greater Glasgow and Clyde, and Grampian areas. All three new cases are contacts of other known cases.
It was confirmed yesterday that cases in Grampian and Ayrshire had been added to Scotland's first, which was in Tayside.
Dr Calderwood said: "With all these cases, our thoughts are with those diagnosed and their families.
"Scotland is well equipped to deal with this kind of infection and we are doing everything we can to contain the virus at this stage and minimise the risk to the public.
"Clinicians are now conducting contact tracing, the process of gathering details of the places those who have tested positive visited and the people they have been in contact with.
"Close contact involves either face-to-face contact or spending more than 15 minutes within two metres of an infected person. The risk is very low in situations where someone may have passed a patient on the street or in a shop.
"Health protection teams will contact those who are at risk from the current cases – those who are not contacted are not at risk.
"We can all play our part to limit the spread of the virus by washing our hands frequently for 20 seconds as well as always carrying tissues and using them to catch coughs and sneezes, then putting the tissue in a bin, and don't touch your face."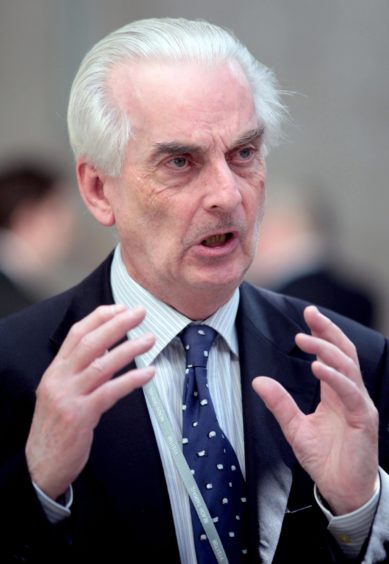 Meanwhile, Professor Hugh Pennington told the Daily Record that Scottish Parliament bosses should consider shutting down Holyrood during the outbreak.
He said: "The simplest thing is to just shut the whole place down for a while."
The Aberdeen University expert also said an outbreak would initially require the Parliament to disable its "touch" fingerprint system for entering the building.
A spokesman for the parliament said: "In line with NHS and Scottish Government advice, the current focus is on promoting hand and respiratory hygiene to prevent the spread of the virus.
"However, other measures could be put in place if there is a further spread of the virus."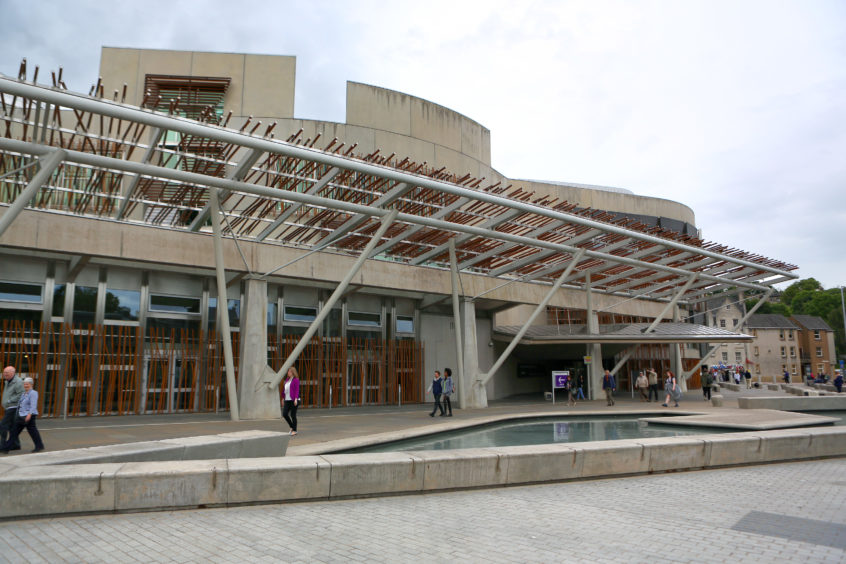 Earlier, a UK Government spokesman confirmed that it was in talks with parliamentary authorities about a plan to close the Commons and Lords if the crisis deepened.
A spokesman for the prime minister said: "Discussions are already taking place with parliamentary authorities and scientific and medical advisers.
"I'm sure parliament will be led by the advice of the experts in terms of taking the steps it needs in order to protect the people who work there."