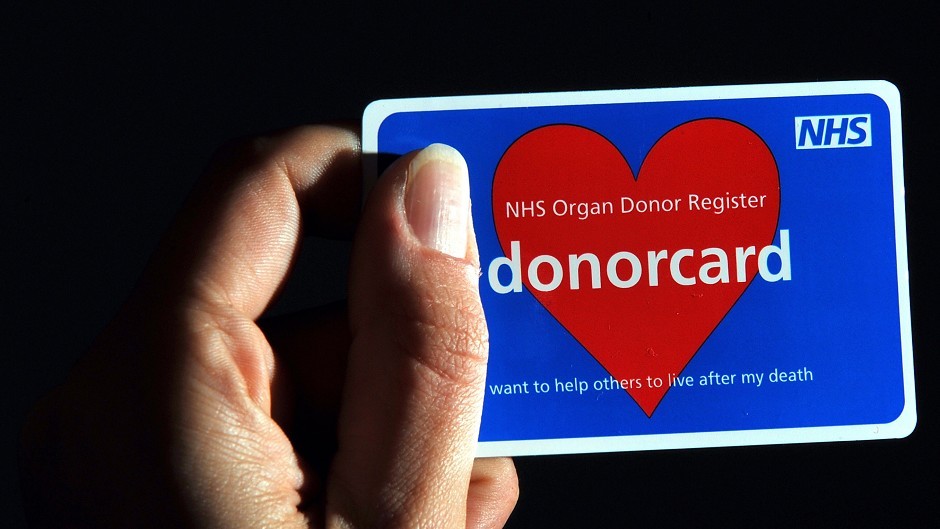 An MSP has claimed her plans to reform Scotland's organ donation system has secured substantial public support.
Labour's Anne McTaggart has a month to persuade fellow parliamentarians there is merit in debating her proposed Organ Donation (Scotland) Bill, which has been subject to a four month consultation, at Holyrood.
The Glasgow MSP said 80% of 529 individuals who took part in the exercise said they supported the idea of amending the current 'opt-in' system.
Ms McTaggart's proposals would mean that unless an adult had expressed an objection and 'opted-out' of the organ donation register, then their organ and tissue could be removed from their bodies posthumously.
She said she believed that reform was essential given the "significant difference" between the number of people on transplant waiting lists and the number of organs available.
Ms McTaggart said: "The current system of organ donation has been the subject of much debate for a number of years, due in no small part to the fact that the UK has one of the lowest organ donation rates in Europe.
"The truth is that people just don't get round to putting their names on the organ donation register, and this results in the deaths of three people every day across the UK.
"I've met too many heartbroken families to let this needless loss of life continue.
"For me, it's important that those who object still have the opportunity to opt-out and I strongly believe that the family should be consulted at the time of death to establish any objection of the deceased that had not been registered."
Ms MacTaggart said her Bill would help to increase the number of organs available for transplantation and save/improve lives.
The proposal has been backed by the British Heart Foundation Scotland, doctors group BMA Scotland and the Scottish Youth Parliament.
But the Law Society of Scotland has warned that the proposed scheme could cause conflict between families and medical staff if the deceased did not express a view before they died.
The Free Church of Scotland has claimed an opt-out system would be "something akin to a tax imposed by the state" on people's bodies after death.