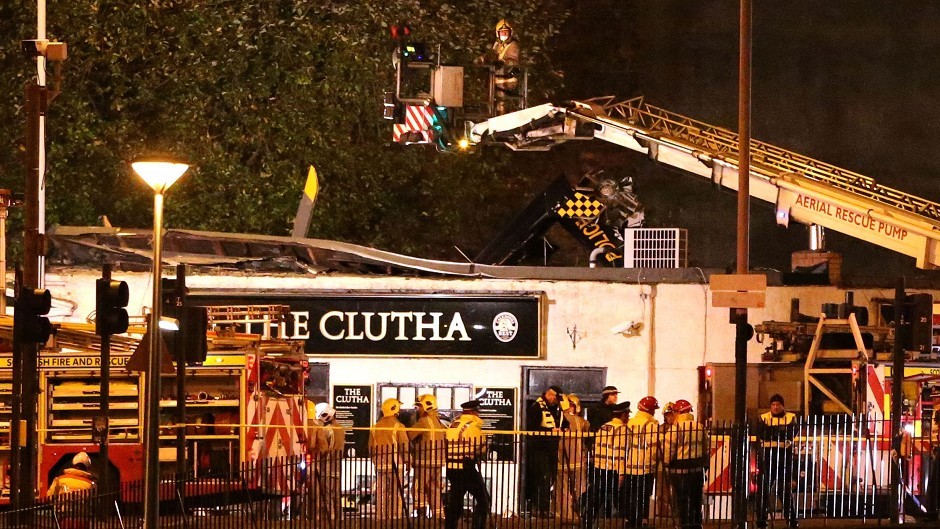 The pilot of the helicopter that crashed into the Clutha pub killing 10 people failed to follow emergency procedures.
An expert investigation into the tragedy has revealed that the pilot continued to fly despite low fuel warnings that meant he should have landed within ten minutes.
The long-awaited Air Accidents Investigation Branch (AAIB) document has drawn scorn from relatives of those killed in the disaster, who claim it fails to provide real answers into what caused the helicopter to crash.
The report makes a series of recommendations to improve safety in light of the Clutha tragedy, but does not have the power to enforce them.
AAIB chief inspector, Keith Conradi, said: "The AAIB is independent, tasked with investigating the causes of accidents to prevent recurrence and help make aviation safer.
"We do not apportion blame in our reports.
"We have made a series of safety recommendations in this final report including that European and British civil aviation regulators require all police and medical helicopters to carry flight recording equipment."
Ian O'Prey, whose son Mark was among 10 people killed in the crash, has questioned why the AAIB does not have the power to enforce its recommendations.
He said: "The AAIB can only make recommendations. What is the point in that?
"They've recommended flight data recorders be installed before, but there's still aircraft flying around without them, so what good has it done? It's a bit of a cack-handed effort, to be honest."
Aviation safety expert David Learmount said police forces have not previously used flight recorders because "they are expensive".
He added: "It's just budget. That is all it's about because they could have put things on board."
The AAIB report concluded that the pilot did not follow emergency procedures after a fuel warning in the cockpit.
Investigators found that two fuel supply switches were off yet the helicopter continued to carry out three surveillance jobs over nearby Lanarkshire rather than land.
The pilot, David Traill, who was attached to Police Scotland's air support unit, was a highly experienced former RAF and training pilot with more than 5,500 flying hours in helicopters.
The report stated that it remains unclear why the fuel supply switches were in the off position, ultimately leading to both engines cutting out.
It also found that the helicopter's low fuel warnings were triggered and acknowledged five times during the flight.
The AAIB added that the pilot did not complete the emergency shutdown checklist following the first engine failure. The second engine failed 32 seconds later.
It was not known why a successful autorotation – the landing of a helicopter without power – was not achieved.
The Crown Office has confirmed a Fatal Accident Inquiry will be held into the tragedy.