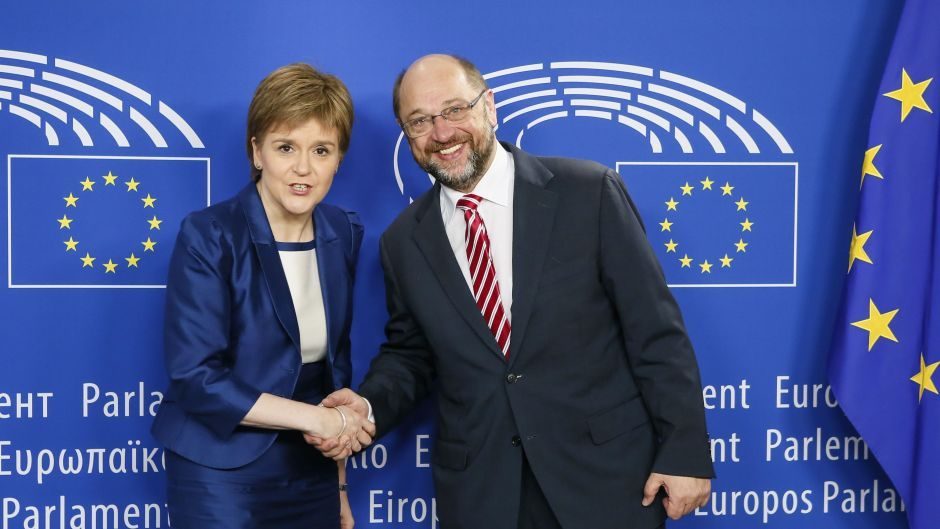 European leaders have dealt a major blow to Nicola Sturgeon's bid to keep Scotland in the EU.
French president Francois Hollande rebuffed the first minister's efforts, saying that there would be no negotiations with "a part of the United Kingdom".
His views were echoed by Spanish prime minister Marion Rajoy, who was "very clear" that the first minister does not have the "competence" to negotiate with Brussels.
Mr Rajoy – whose People's Party recently won the most votes in the Spanish election – said he "opposes" negotiations with "anyone other than the government of the United Kingdom".
Ms Sturgeon visited Brussels yesterday for talks with EU officials after Holyrood gave her an overwhelming mandate to try to stop a Scottish exit.
A majority of Scots voted Remain in last week's referendum, while Wales and England voted to Leave.
The Spanish government, which faces separatist movements of its own in Catalonia and the Basque country, has always been a chief opponent of Scottish independence.
President Hollande, who is facing pressure to hold a referendum on EU membership in his own country, said: "The negotiations will be conducted with the United Kingdom, not with a part of the United Kingdom."
Earlier, Mr Rajoy said: "I want to be very clear. Scotland does not have the competence to negotiate with the European Union.
"Spain opposes any negotiation by anyone other than the government of United Kingdom."
The Scottish Conservatives claim the "rejections on this solo mission" show Ms Sturgeon should be "teaming-up with the rest of the UK to get the best deal for Scotland".
Under EU rules, the remaining 27 member states have the right to veto the Brexit deal which will be struck between the UK Government and EU officials, after David Cameron's successor invokes Article 50 of the Lisbon Treaty.
Member states also have the right to veto any applications for EU membership.
The first minister met senior MEPs, including the European Parliament's president Martin Schulz, to discuss possible options to keep Scotland in the EU.
She also met European Commission president, Jean-Claude Juncker, although he also said the executive body would not "interfere" in British constitutional arrangements.
European Council president Donald Tusk had earlier snubbed an invitation from Ms Sturgeon.
Speaking yesterday evening, the first minister said she was not "surprised" by Mr Rajoy's comments.
She added: "I have had a sympathetic response to the position Scotland finds itself in – facing the prospect of being taken out of the EU against our will, a position not of our making and not one that we wanted.
"I have not been here today to reach any conclusions or to press anyone for any decisions or commitments.
"I have been here today to make sure that Scotland's voice is being heard and that Scotland's position is understood – and I'm confident that is the case."