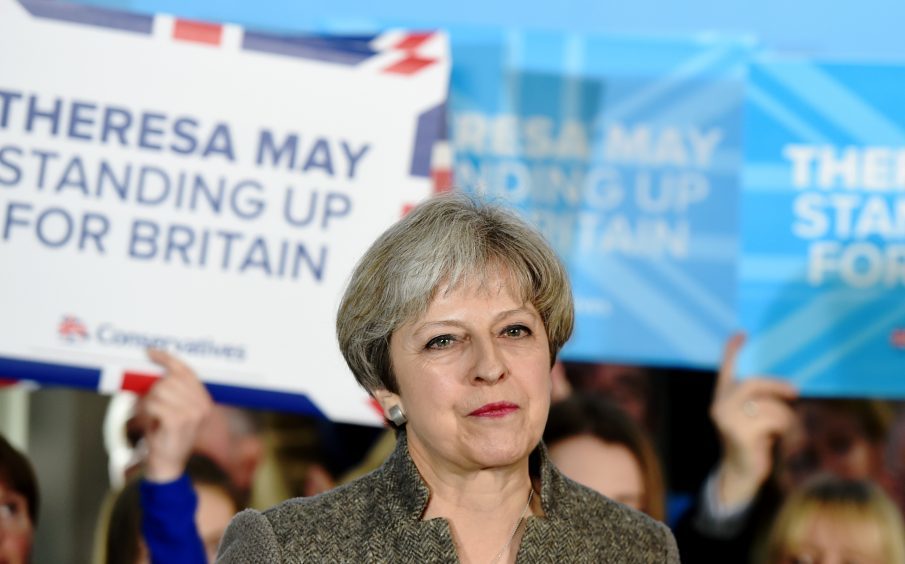 Theresa May has defended her planned cap on energy prices but admitted electricity and gas bills could still go up.
The prime minister unveiled the flagship pledge during a campaign visit in Yorkshire.
Conservatives say the limit on poor value standard variable tariffs could save 17 million households £100 a year.
But critics were quick to draw comparisons with Ed Miliband's proposed price freeze, dismissed as "Marxist" by David Cameron.
They also argued the plan would not address the long-term issues around the "soaring cost of transmission charges" in the north-east of Scotland.
The Tory leader has come under fire too from energy companies who claim the move would distort the market and undermine moves to improve choice.
Answering questions at a factory in Leeds yesterday, Mrs May was asked whether the cap would be set at a level which ensured prices did not go up for consumers.
She replied: "I don't think any government can ever promise that no bill is going to go up year on year.
"But what we want to make sure is that in relation to energy it will be determined by an independent regulator, it will be making sure that there are not these sudden and unexpected and significant hikes in prices."
The SNP's Eilidh Whiteford, the party's candidate in Banff and Buchan, said the decision would do nothing to help support Peterhead Power Station, already facing an uncertain future.
She added: "The Tories plan for an energy cap will do nothing to address the long-term issues around the soaring cost of transmission charges in the north-east of Scotland.
"Families here already pay higher charges than other parts of the UK, and a cap on tariffs won't change that.
"The huge transmission charges that hit Peterhead Power Station continue to jeopardise the future of Scotland's last gas
power station."
Liberal Democrat Leader Tim Farron branded the plan a "gimmick", adding: "The way to get energy prices down is to invest in widening the markets."
Lawrence Slade, chief executive of Energy UK, said Mrs May's announcement "effectively risks giving up on competition at a time when we need engaged consumers more than ever".
Meanwhile, also on the campaign trail yesterday, the prime minister said it was not her intention to raise taxes, but did not rule out future increases.
Labour's shadow chancellor John McDonnell said the Tories were a "threat to working people".