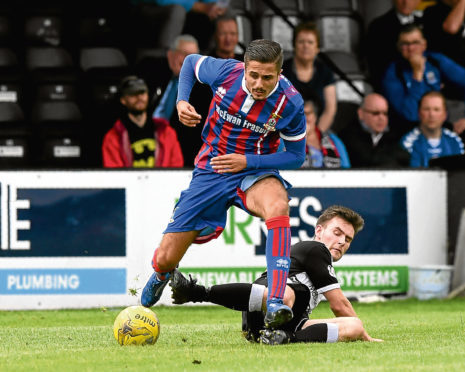 Elgin City midfielder Scott Smith says the Black and Whites must put themselves in a position to capitalise on any slip up by Stenhousemuir in the race for the League 2 promotion play-offs.
City are a point behind fourth-placed Stenhousemuir, who have two games in hand, ahead of today's visit of Edinburgh City to Borough Briggs, which is the first of three remaining fixtures for Gavin Price's men.
Although Elgin's fate is outwith their own hands, Smith says they must do all they can to keep up the pressure on the Warriors.
He said: "We are still trying to go for the play-offs but it's out of our hands now. We can only do what we can do to make sure we get the three points.
"Stenny have got two games in hand so we have got to take all the points we can. Hopefully they slip up and give us a few points of an advantage.
"It's a big ask for them to play on both Tuesdays and Saturdays, but we have to take it on ourselves to get the points.
"Montrose and Peterhead will be trying to get points in our next two games as well as they are both trying to win the league, so it will be very tough for the rest of the season.
"Everyone has got something to play for – none of the games will be easy."
Elgin were defeated 4-0 at Ainslie Park in their last meeting with today's opponents in February, and Smith is out to make amends, with the 22-year-old adding: "We have got a point to prove after the last time we played them. We need to bounce back and prove we are better than that.
"Our away form has not been the greatest, that's where we have let ourselves down. The league form speaks for itself, it is right at the top of the table with it.
"Results like that one away from home have hit us hard though. It's something we need to sort ourselves, or we are not going to be up there."
Smith has been a regular in Price's starting line-up in recent months, having missed the majority of last season through an ankle injury.
The former Dundee United player is out of contract in the summer but remains uncertain over his future, adding: "I have been on the bench for the last few games but before that I was playing quite a lot.
"I just want to get back into the team and keep my spot, but it's results that are more important – it's a team game.
"As a player, all you want to do is play though, no matter which position it is. The worst thing is watching on and not being able to influence or affect anything, so to be playing is always a good feeling. Nobody knows how long your career is going to last either so you have to make the most of it.
"I'm out of contract in the summer so I need to speak to the club but I will play it by ear. We will see what happens between now and the end of the season."