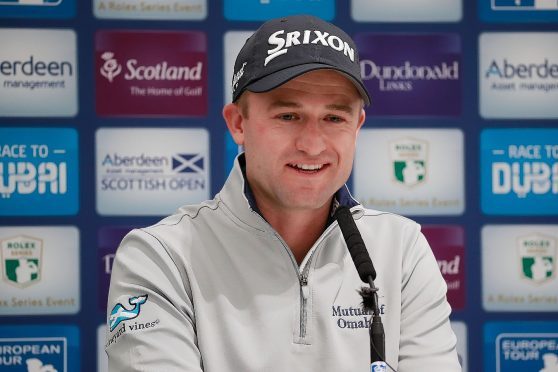 Inverness golfer Russell Knox says playing alongside Tiger Woods in this week's Open championship at Carnoustie will be a dream come true.
The in-form Scot, who has propelled himself into Ryder Cup contention by winning the Irish Open and finishing runner-up at the French Open, has been drawn with 14-time major winner Woods and Japan's Hideki Matsuyama for the opening two rounds.
They will tee-off at 3.21pm tomorrow and Knox can't wait to play 18 holes in golf's oldest major with his hero.
He said:  "I was shocked when I saw the draw.  I have played with Matsuyama a few times but I have never played with Tiger.
"Tiger was my hero growing up.
"I had a poster of him on my wall. He changed the game for everyone, including myself.
"I always thought he would come back from his injuries but I never thought my career would be fully complete if I didn't get to play with him.
"Hopefully I have a long way to go but at the darkest times for Tiger with injuries and whatnot I didn't think I'd ever get to play with him.
"This is a dream come true.
"It has been an amazing couple of weeks for me. I almost won a tournament and then I won a tournament. I was contending at the Scottish Open and now I'm getting to play The Open with my hero.
"Watching Tiger win the Masters in 1997 is my first memory of him. I was 11 or 12 at the time. He is the reason why I played golf.
"I have met him once and I played in his tournament in the Bahamas, which was great.
"To get to play with him at a major will be amazing.
"To do so at a major in my own country is even more amazing."
Many top professionals have admitted being paired with Woods has had a detrimental impact on their own game but Knox insists he is prepared for the madness and possible distractions he could encounter during his first 36 holes at Carnoustie.
He said: "It will be completely different to what I'm used to.
"I played with Phil Mickelson a couple of times and that is beyond anything else anyone else brings and Tiger is in a whole different category.
"I am expecting craziness.
"Even Rory McIlroy came out a few weeks ago and said playing with Tiger is tough.
"I am expecting it to be difficult but this is a once in a lifetime opportunity to play with your hero.
"I am just floating on air. If I play great or awful, I just have to try to enjoy playing in that atmosphere.
"The adrenaline will be pumping so fatigue or anything like that won't be an issue."
Knox, meanwhile, is taking confidence from being selected in one of the main groups for the Open championship.
He added: "I was talking to my caddie and he said I deserve this tee-time with the way I have been playing recently.
"It will be cool. It was nice of the R&A to do that with me being an in-form Scottish golfer.
"Getting to play in that atmosphere will be cool.
"If I hadn't done anything in the last month or so there is no way I would be in that pairing."