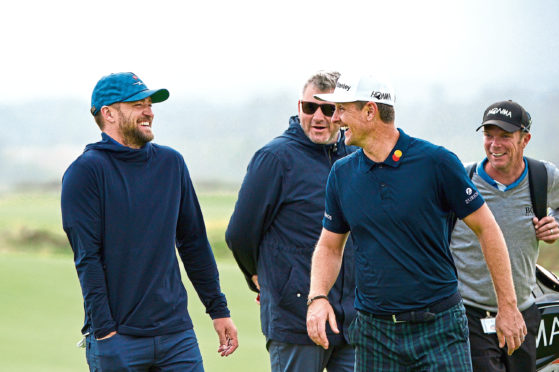 Justin Rose is one of top golfers in the world but he accepts he may not be the main attraction when he teams up with Justin Timberlake in this week's Dunhill Links Championship.
World number four Rose and 10-time Grammy award-winning musician Timberlake are the star pairing in the pro-am that runs alongside this week's European Tour event at Carnoustie, Kingsbarns and St Andrews.
Rose has high hopes for his partnership with close friend Timberlake, an enthusiastic golfer with a highly-impressive handicap of two.
The pair tee off at Carnoustie, the most difficult of the three host venues, at 11.12am with wet and windy conditions expected.
Speaking about his friendship with Timberlake, Rose said: "I met him in Orlando and he was playing golf at Lake Nona.
"I said hello and, being a keen golfer himself, he knew who I was.
"He then came to the Bahamas and we played a bit of golf. He came to the house for dinner and we started to hang out and we ended up playing the AT&T Pro-Am so it's been an evolution over the last six or seven years.
"Golf has been the glue, for sure. It's been fun.
"I have the opportunity to see what he does and that's great. To me, he's just Justin Timberlake the guy who wants to play golf but when you see him on stage you see him become Justin Timberlake with thousands screaming for him.
"I have been able to watch two or three shows and have been in that inner sanctum so I get it a bit more of what he does.
"It's fun to be playing with him."
Rose, however, says the importance of golf has been placed firmly in perspective by the devastation caused by Hurricane Dorian which earlier this month battered the Bahamas, where the Englishman lives with his family.
More than 50 people were killed while more than 1,000 are still unaccounted for.
Rose said: "We were very fortunate to get away with it.
"Nassau is 100 miles south from where the eye of the storm tracked.
"We caught the fringes of the storm. We had three days of 40-miles-an-hour wind but nothing to impact the house – nothing dangerous at all.
"Just coastal erosion, beach erosion, stuff like that. We feel very lucky to get away with it.
"You realise how vulnerable you are when you see the power of the storm and what it can do.
"Nassau has become very much the heart of the relief effort. That's where my wife is today, at a children's home in Nassau, working and helping and doing what she can.
"A lot of us in the community have done as much fundraising as possible. Where I live, Tiger Woods and Justin Timberlake have been involved in setting up a significant fund that can try to help some of the rebuilding process.
"In a small community like the Bahamas, when something so devastating happens, we definitely club together pretty well.
"It's pretty devastating to see. It's a small enough place where you are bumping into people who have just lost their uncle or they have cousins they haven't heard from.
"They fear the worst. It's pretty difficult to watch."