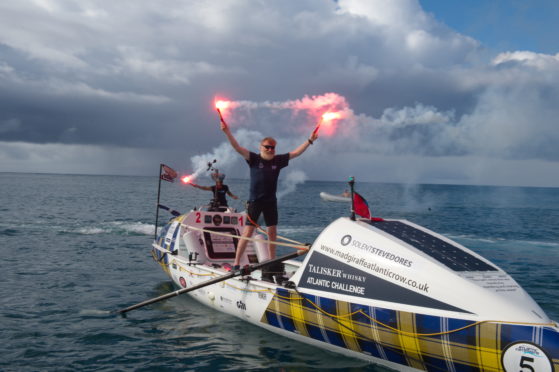 He spent 15 years in the special forces, but nothing could have prepared John Davidson for 76 days alone on the Atlantic Ocean to help the "Mad Giraffe" of Scottish rugby.
The 57-year-old former SAS soldier has been shot down in a helicopter and suffered the same fate in a plane. He has also been a kidnap for ransom hostage negotiator, but a solo 3,000-mile row in a 28-foot boat has been "his biggest challenge yet".
The veteran from Fintry left La Gomera on December 12 and has been on the oars for at least 16 hours a day ever since. He arrived in Antigua on Wednesday.
During his journey, he has battled sickness and illness which was so bad it caused convulsions, extreme weather conditions and near-constant electrical and steering issues. And he braved the ocean without any home comforts – not even a pillow – so he could push himself to his limit.
Mr Davidson spent more than two months without his wife Jessica and four children, Lara (15), Hamish (13) Gretel (11) and Lochlann (4), who greeted him in Antigua.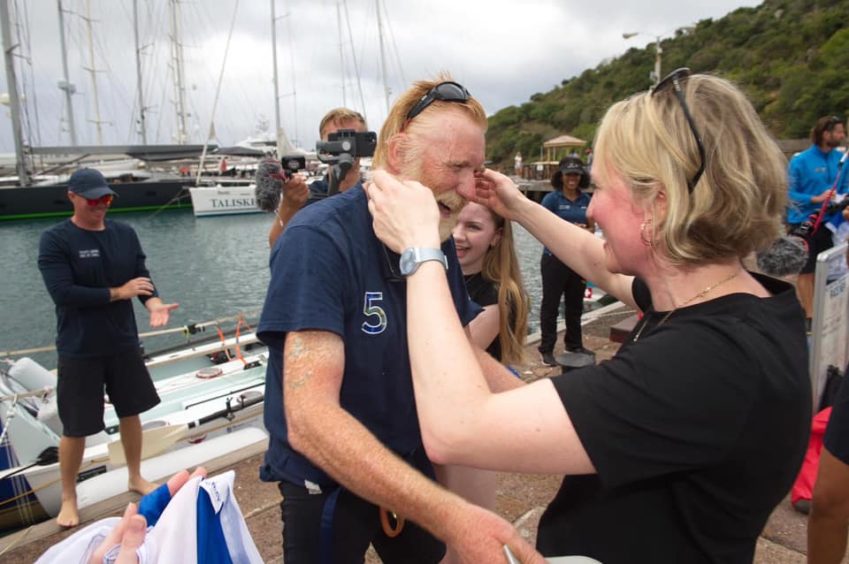 It was all to raise money for My Name'5 Doddie Foundation, the charity established by rugby star Doddie Weir after he was diagnosed with motor neurone disease.
The rower who borrowed Mr Weir's "Mad Giraffe" nickname for his odyssey, said: "This has been my biggest challenge, but also the most incredible experience of my life.
"I am so grateful to be back on land and see my family who I have missed so much. Speaking to them by satellite phone was a lifeline during my darkest moments.
"Memories of the struggle will fade with time and the sea could be terrifying, but I'll always treasure the wildlife I witnessed and sunrises and sunsets I saw.
"When the going got tough, and it did, many, many times, I just remembered why I started all this in the first place, because I was inspired by Doddie Weir and his indefatigable spirit in his battle with MND."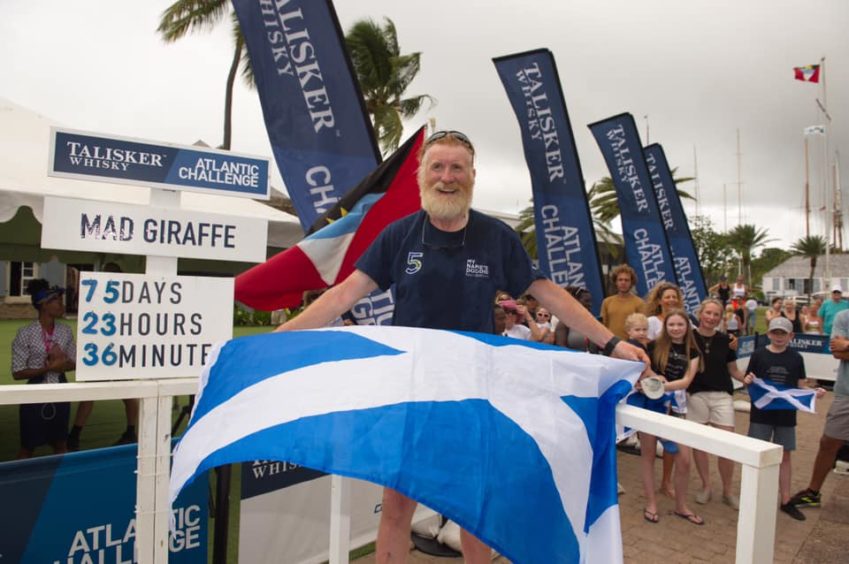 Mr Weir launched the foundation to help fellow sufferers and raise funds for further research into the still incurable disease.
The 6ft 6in lock was nicknamed the Mad Giraffe during his playing days by commentator Bill McLaren.
He said: "I couldn't think of a better man to lend the 'Mad Giraffe' moniker.  I'm completely in awe of John and have followed along with every stroke of his oar.
"I can't wait to meet up with him once he's back in Scotland so I can tell him for myself what a massive impact his efforts will have on our charitable foundation, and what an inspiration he has been to me."
Mr Davidson has already raised more than £80,000 for the foundation and hopes to pass the £100,000 mark.
To donate, visit Mad Giraffe's Just Giving page.