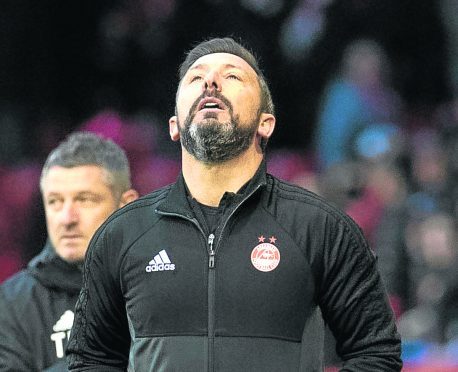 Former Aberdeen manager Alex Smith hopes Dons fans do not turn against Derek McInnes if he leaves the club for Rangers.
The Light Blues are expected to make an approach for permission to speak to the Aberdeen manager about the vacant job at Ibrox as a six-week saga nears its conclusion.
McInnes is unhappy at how long the speculation around his future at Pittodrie has been allowed to fester but has stopped short of ruling out a move to the club he served as a player.
With many Dons supporters fearing they are about to lose their manager Smith hopes, if McInnes does leave the club, his efforts in the past four and a half years are not diminished in the eyes of the support.
Smith said: "This has gone on for far too long and Derek has every right to feel upset. It has been a deeply unsettling and destabilising period for the club.
"The link with Rangers has been constant throughout that time and if Derek is offered the job and accepts it I hope the fans don't turn against him.
"I know how tribal the rivalry is between the two sets of supporters but Derek doesn't deserve that for what he has given to the club.
"Ryan Jack was entitled to let his contract run down and move on to a new club but has had a hard time from the Aberdeen support for joining Rangers. It's a shame as he was a solid player and captained the team.
"Derek doesn't deserve that either. He may go and if he does his work for the club deserves to be appreciated. He has been nothing but professional and committed in his time at the club."
Rangers' imminent approach comes as they have replaced the Dons in second place in the Premiership and Smith insists the prolonged wait to make an appointment has adversely affected Aberdeen.
He said: "I don't think there is any doubt it has knocked the Dons but is natural. Players read between the lines and some will look at their manager and think what he said two or three weeks ago doesn't carry the same weight if his future is in doubt.
"This saga hasn't just affected the dressing room it has affected the results. I don't believe it was deliberate and the results may have been 3-0 and 2-1 to Rangers regardless but it is clear the protracted manner in which this has happened gave Rangers an advantage."