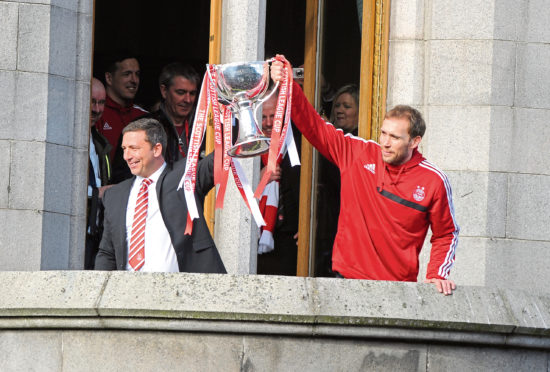 Gothenburg Great John McMaster feels Aberdeen have to bridge the gap to Celtic and start winning trophies.
The Dons have won one trophy in the last 20 years and have reached three further finals, losing them all against Celtic.
McMaster contrasted it to the change of mentality he experienced during his time at Aberdeen, where treating semi-finals and finals was accepted as success.
He worked with manager Derek McInnes as a youngster at Morton and reckons victories like the League Cup final in 2014 need to become more commonplace.
McMaster said: "They've got to bridge the gap. Without being critical, it's the Jimmy Bonthrone scenario. Don't accept semi-finals, don't accept losers.
"You want to win trophies. Look at the effect it has on the city. The 2014 win lifted the chairman and the club.
"I know Derek is after that and I think that's why he's staying. He'll get there eventually because it looks like he knows what he wants.
"He's still got to do the business against the Old Firm. That's where the boss gave us the belief to go down to Glasgow and win.
"Derek did it at the end of last season, beat Rangers in the semi-final of the cup and then at Ibrox in midweek. We were going down there as players expecting to win."
McMaster spent 14 years at Pittodrie before finishing his career at Morton.
He was a coach under long-serving boss Allan McGraw and banged the drum for McInnes as a teenager.
He added: "We got Derek at Morton through accident. One of the YTS staff asked if he could bring his mate into training, so I asked Allan McGraw.
"Within five minutes, he's better than what we've got and in six months, he's in the first team.
"The previous manager had his favourites in the reserves and they were useless, to be blunt.
"I banged the door for McInnes – I forced that. Within a year, he was captain of the first team. Within three years, he was sold to Rangers and we got a fee.
"Derek takes everything on board, moves with the times. He knows where he's come from and he's had experience with St Johnstone and Bristol City.
"He's always thinking outside the box and come from a Rangers team with a winning mentality.
"He was never away from me. We would train on a cowpat and he would still put the same amount of effort in."