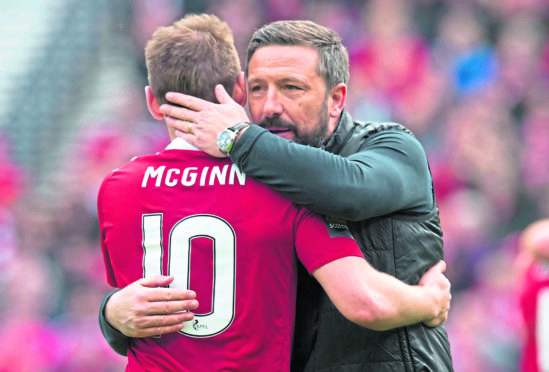 Niall McGinn is making plans for life after football by investing in a new pizza restaurant in Belfast – but what he really covets is a slice of the coaching action at Pittodrie.
The Northern Ireland international winger this week announced a new venture, Pizza On The Square, will open in Belfast city-centre next month, almost 10 years after he and his agent Gerry Carlile opened their first restaurant together.
McGinn, 32, is excited by the new investment, the third restaurant venture between the duo, but he has no designs on quitting the game when the time comes to stop playing. If anything, he hopes to continue in football as a coach and would welcome the chance to take on new responsibilities at Pittodrie.
He said: "It's just another wee adventure outside of football with my agent, as we already have one going strong in West Belfast and this new one is in the city centre.
"Hopefully it takes off and does well but I started my coaching badges last summer so I'm just looking to finish off my B licence then move on to the A one.
"You do start looking at what you can do when you stop playing but it's my ambition to stay in the game when that time comes.
"If I can get my badges while playing for a club like Aberdeen then hopefully that can maybe open a few doors for me when my contract ends here."
McGinn has worked with several managers during his career and he believes he has learned much in his career from the coaches he has served under.
He said: "Looking at my character, I would probably be more of a level-headed guy that would suit management more than coaching I would say.
"I've been lucky to work under some really good ones that I've learned from, like Michael O'Neill, Derek McInnes and Neil Lennon, as well as a short time under Tony Mowbray.
"Obviously there have been different characters, as you get the fiery ones like Lenny and the calmer ones like Derek and Michael, who has done well at international level.
"If I can take the best attributes of all of them and put it all together then I wouldn't be too bad as a manager.
"I'd be more chilled and laid-back but do the shouting at the right times rather than being feisty."
For now coaching, and pizza, for that matter, can wait, however. Playing duties remain the number one priority and McGinn hopes he can lend his experience to Aberdeen as they struggle through a crippling midfield crisis.
Lewis Ferguson misses today's trip to Motherwell due to suspension while Funso Ojo and Stephen Gleeson are injured and Craig Bryson is unlikely to feature.
McGinn said: "We are down to the bare bones in certain positions right now.
"We obviously haven't been brilliant in the league so far this season but we know in this league, with the sort of run of games ahead, that we can win more than we lose.
"What we need is to build up a bit of momentum by getting back to winning ways."