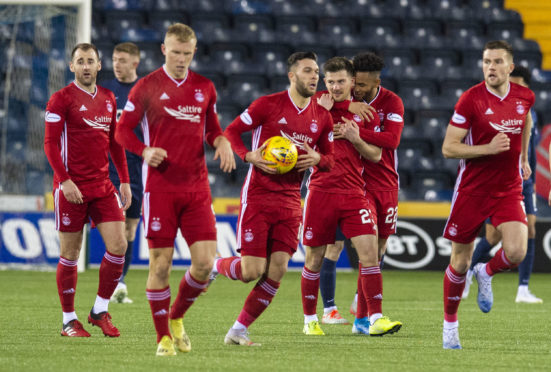 It feels like Aberdeen have been drinking in the last-chance saloon for such a long time that everybody must surely know their name.
Whatever cheers they've been eliciting of late have generally been ones of relief.
Rugby Park had already played host to more than a season's worth of dramatic Aberdonian reanimation. At the quarter mark here, the Red Army cannot possibly have imagined that its team was going to be able to push its luck still further: dropping 2-0 adrift at almost exactly the same time as Motherwell were turning a deficit into a lead and Livingston drawing level in their quest to do the home double against Celtic, it felt – admittedly not for the first time – as if the Dons had finally used up all of the margin for error they accumulated in the race for Europe prior to the winter break.
The chase for third was becoming a desperate quest to protect fourth, and for a brief moment early in the second half Aberdeen were failing to achieve even that.
So often had the Dons blown an opportunity to make progress, only to see their closest rivals fail to capitalise, that they could hardly complain about the way the evening was shaping up.
But though this team seems intent on harming itself, it refuses to die. Yet again, they end the night still grimly clinging on to the next-in-line spot in the European queue, should they and their Edinburgh counterparts be unable to prevent another Celtic treble.
With Hibs visiting Pittodrie on Saturday, they will have an opportunity to move within a single result of overtaking Aberdeen, while Livi could do it there and then.
The league season literally cannot end soon enough for the Dons to back into Europe, even though they are giving it one heck of a shot; they are destined for a four-way top four shootout and they will have no option but to beat those who still – somehow – are only nipping at their heels.