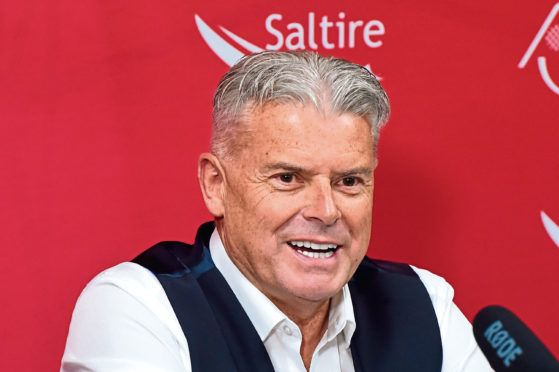 Aberdeen chairman Dave Cormack has warned admiring clubs they will not pick-up any summer transfer bargains at Pittodrie.
Scott McKenna, Lewis Ferguson and Sam Cosgrove are three prized assets at the Dons, who have lost an estimated £1million in revenue a month due to the coronavirus lockdown.
Having addressed the shortfall with the help of board investment and the financial support from supporters, Cormack says any club believing it can take advantage of his club faces disappointment.
He said: "There is no way we will sell any player for less than what we think is market value. Market value today versus a year ago may be different but there is absolutely no way we will sanction any player going on the cheap.
"We simply won't do that and that is a policy we will have as a board. We're fully expecting all our players to play a part next season.
"Obviously if a reasonable offer comes in for a player we will of course consider that and what the player wants to do as well."
Aberdeen are finalising their preparations for a return to Cormack Park after Premiership clubs were given permission to resume training from Thursday and Cormack insists the Dons will be rigorous in ensuring they meet the criteria laid out.
He said: "We're still pinning down the exact costs associated with this, but we've budgeted for it. We've been conservative, but there are literally 50-100 pages of guidelines which have been put together on exactly what each club will do and we follow these to the letter of the law.
"But at this stage we are finalising how we do the testing and certainly our plan is to have one of those testing units there so we can do it on site."
The SPFL this week announced a deal has been struck to show Premiership matches which will be played behind closed doors due to the coronavirus restrictions in place, but the Dons chairman says his club is continuing to assess what social distancing measures can conceivably be put in place at Pittodrie next season.
He said: "It might be 3,000 fans get in, it might be 5,000, it may go in increments, we don't know. Three thousand in a stadium that holds 20,300 is manageable, but those are the things we need to figure through.
"There may be fans that are season ticket holders for example who have underlying conditions and shouldn't be at Pittodrie, so there is a lot to work through.
"I think the cup is half full. The half empty approach says you won't try anything, but the last thing we will do is put anybody at risk with this.
"But I think it makes sense to go from behind closed doors to limited crowds and build up from there, but we've no idea whether there will be second or third waves which will come from this."