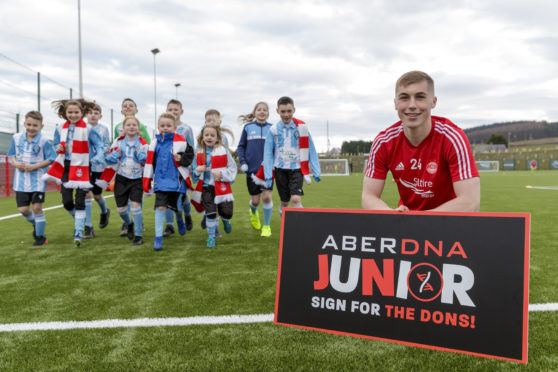 The Press and Journal and Evening Express have joined with the Dons to raise awareness of AberDNA Junior – the club's free membership scheme open to every child under 12 years old in the region.
The under-12 scheme is an extension of the successful AberDNA membership, which has swelled to 6,300 Dons fans locally, nationally and internationally.
The Dons want AberDNA Junior's future supporters to be at the heart of the club by providing every child access to top-flight football and extending its reach into the wider community.
Every youngster who becomes a member will receive a welcome pack with a voucher to claim two free match tickets as soon as crowds are allowed back to football stadiums and a collectable player card, featuring captain Joe Lewis.
As a member they will have access to discounts, opportunities to enter prize draws and special events and experiences.
The first of which, open to all AberDNA Junior members, will be a "Sign for the Dons" day at Pittodrie.
The first signing day was due to run in April this year but had to be postponed due to coronavirus.
But AberDNA Junior members will still get the opportunity to follow in the footsteps of their football heroes when they are invited to Pittodrie to officially 'sign their contract' and be unveiled as AFC's latest signing as soon as it is safe to do so.
AFC chairman Dave Cormack believes AberDNA Junior will help build the Red Army of the future and hopes he can count on the support of youngsters across the city and surrounding areas.
He said: "Fostering the fans of the future is part of our journey towards a more successful club that delivers an exceptional experience at exceptional value. And you don't get any better value than a membership that's free!
"We're on a mission to create an even greater sense of belonging among our fans, young and old, with a dramatically improved approach to fan engagement and that starts with reaching out to the fans of the future, making sure they feel really connected to the club so they become life-long fans.
"Season ticket sales and AberDNA memberships make up around a third of our football budget and the more supporters we have, the more we will have to invest in the football operation, whether it's the first team, the youth academy of the women's team. We're all part of the same Dons family.
"But it's not just about attracting new fans, it's also about using the power of our brand and the passion for football to educate and inspire young people, helping them reach their potential and live healthy lives and demonstrating that we are truly a club at the heart of its community.
"Through the AFC Community Trust, we're already active in 23 schools, bringing a range of football-related activities to help close the attainment gap and help tackle physical and mental well-being."
Dons midfielder Dean Campbell, a former pupil of Hazelhead Academy, launched the campaign earlier this year and he insists AberDNA Junior is a great way for young fans to build a relationship with their local club.
He said: "I've been a Dons fan all my life and went to my first game at Pittodrie in 2005 when I was four years old. We were playing Hearts, and whilst I can't recall the score, I remember how excited I was to be at the stadium with my dad watching my team live in action.
"The only thing more rewarding than being a Dons fan, is playing for them and I've been fortunate to make my dream come true.
"AberDNA is a great chance for every child not just to be a fan, but to become a member of the club. It's going to make them feel they really belong to the AFC family.
"The club is a huge part of our community. It touches the lives of so many people and, by widening our reach into primary schools, we can have a really positive impact on young kids.
"I'm looking forward to seeing some new, young faces in the stands when we get back to crowds at Pittodrie and, with all the exciting plans in place to improve the match-day experience through the Red Shed, more family-oriented activities and a fan zone with kids stuff, there's never been a better time for youngsters to join the club."
With approximately 43,000 children from over 200 primary schools across the region, the club aims to build on the excellent schools' outreach work being carried out in the community by partner charity, Aberdeen FC Community Trust (AFCCT).
Supporters can find out more about the initiative at
afc.co.uk/aberdna