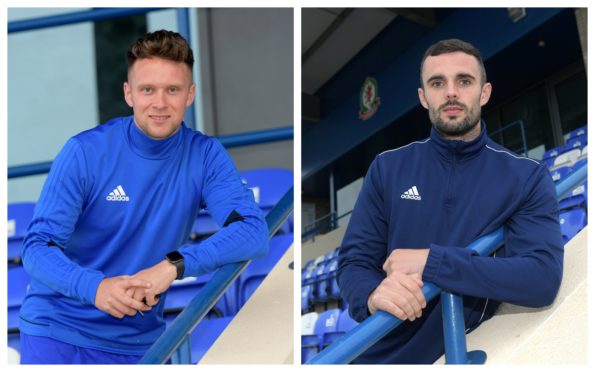 Scott Ross and Ryan Strachan have both signed contract extensions at Cove Rangers.
The former Peterhead defenders have extended their current deals until 2023 and 2022 respectively.
Both players joined Cove under John Sheran in 2017 and won back-to-back Highland League titles, helping the Aberdeen side seal promotion to the SPFL.
Ross has been a regular in the side and Strachan has overcome injury to retake his place alongside his long-time friend in the heart of the Cove defence.
Ross said: "There was never any doubt that I would choose to stay with Cove. It's where I want to be and hope to remain for as long as possible.
"The fact Ryan has agreed to stay as well is great because we have been team-mates since about the age of 11. We were youth players together at Aberdeen and been almost joined at the hip since.
"Ryan is one of my best chums and I really enjoy playing alongside him."
Strachan, who can also play in midfield, insisted there was nowhere else he would rather be than the League 2 leaders.
Strachan said: "It's good to be given the opportunity to stay with a club that I love. I've said a few times that the club is doing well and I just want to be a part of it.
"The really good thing is it's my local team and the squad is full of local players. We are all close friends and that has helped us build good relationships out on the pitch.
"The backroom staff and players who have come in from other places have also bought into that and I've never been happier playing than I am right now. There is simply no-where else that I would want to be.
"Being able to continue playing alongside Scott is an added bonus, even though that seems to have stressed him so much he's started to lose his hair!"
Cove return to league action on Saturday at home to Brechin City. They hold a 10-point advantage at the top of League 2 from Edinburgh City.