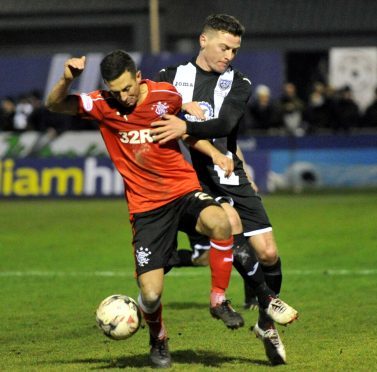 Fraserburgh striker Gary Harris has the souvenir he wanted to provide a lasting reminder of the day he played Rangers.
The Broch's Scottish Cup run came to an end on Wednesday when the Gers won 3-0 at Bellslea Park but the Harris knows his side pushed Graeme Murty's team all the way in a competitive and compelling cup tie.
The day the Gers came to town will live long in the memory of the locals at the Highland League club and Harris is delighted he managed to get a tangible reminder of the biggest game of his career to look back on.
He said: "I managed to get Jason Cummings' shirt after the game and had a chat with him too which was nice. I few of the lads managed to get shirts too while the club gave us all commemorative home jerseys.
"I'll get them framed together and up in the house as it will be a great memento to look back on when I'm older."
The former Turriff United attacker was feeling the effects of the shift he and his team-mates put in on Wednesday but the weary body served as a reminder the Broch gave their all in their big game.
Harris said: "Most of the lads took the day off but I stupidly said I'd go to work but my legs are like jelly after all the running I did in the game and I've hardly slept.
"I don't know whether it was the adrenaline or a sugar rush but I laid in my bed wide awake for most of the night after the game.
"We did well and it was a great experience which will stay with us all for the rest of our lives.
"At half-time and only 1-0 down we thought as we were shooting towards the garage end, our preferred end, we had a chance but the second goal ended the game.
"But the players were brilliant. You couldn't fault anyone for their workrate and it was a great occasion for everyone associated with the club."
Harris and his team-mates could be forgiven for letting the big game affect their league form but the Broch are five points behind Cove in the Highland League title race and the striker knows his side cannot afford a cup hangover as they prepare for a return to league duty tomorrow.
He said: "Mark Cowie gave a speech to the players after the game and he told us how proud he was of us all.
"The build-up to the game had been great and we all enjoyed our moment in the limelight but he stressed how important it was that we didn't let our focus in the Highland League slip.
"You see it all the time, a part-time club gets swept away by a high profile game and loses track, and we don't want to do that.
"We're still in contention for the league title behind Cove and we have a big derby game at Deveronvale on Saturday to focus on."