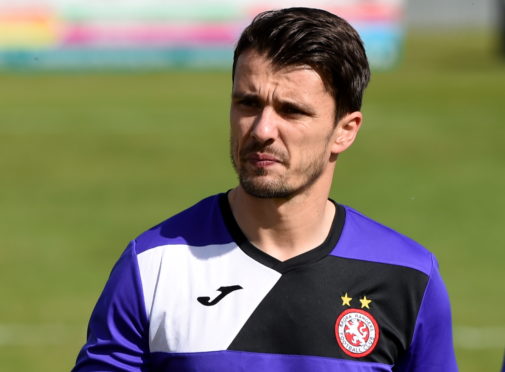 Brora Rangers player-manager Steven Mackay is closing in on two memorable landmarks.
The 37-year-old former Ross County, Peterhead, Elgin City, Forres Mechanics and Nairn County striker is just three goals short of scoring 200 for Brora, and just one short of taking his all-time Highland League scoring record to an equally impressive 300.
Mackay said: "We're almost there on 197, just three goals short of notching my 200th Brora goal in the last six and a half seasons. Not a bad average really.
"The first 150 came up fairly quick, but there was a spell the season before last that I looked destined to be leaving Brora, something I never really wanted to so.
"I felt that I still had a lot to offer, and that sitting on the substitute's bench at Cove Rangers just wasn't for me.
"That was the only reason that I asked to be placed on the transfer-list. It's great that in the end I didn't have to leave as I've had six and a half very happy years at Dudgeon Park, it's been fantastic in terms of seeing the club grow, winning back-to-back titles, and also in the manner in which they won them.
"That was a frustrating kind of two years, I was working away from home over in Houston in the States, and that didn't help either.
"I suppose I've bucked the trend, usually when they get older players usually drop back from their original roles into defence, it looks l've bucked the trend as I started my career at Ross County in 1998 as a left back, over the years I've also been a midfielder until at this late stage of my career.
"I now play up-front, something I never did until I started playing at Brora – I've got slower but ironically I'm now playing further up the park."