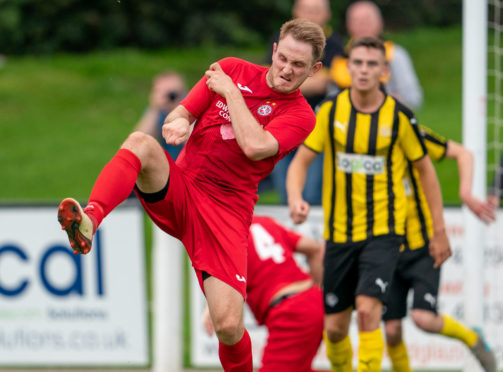 Brora Rangers could emulate Cove Rangers and challenge at the business end of League Two.
That is the view of Cattachs defender Mark Nicolson, who has played at that level with Elgin City and reckons this squad is one of the best he has been part of.
The Highland League champions have not given up hope of being admitted into the SPFL. They are awaiting the outcome of league reconstruction discussions, which could see them and Kelty Hearts – winners of the Lowland League – afforded the chance to step up.
Nicolson said: "At the moment we're set really well for it. I have played at League Two level before and I've been with this squad for a few seasons. This squad is one of the best I've been part of.
"I see how Cove done last season. OK, they've improved the squad a bit but I don't think there's any difference between their squad last season and the one we've got now. If we do go up into League Two I think our aim would be to challenge in the top half of the table.
"We don't concede many goals, have got boys like Jordan MacRae and Andrew Macrae who score a lot as well as Dale Gillespie, Martin Maclean and Paul Brindle that have chipped in."
The flip side of the coin would be Brora starting the 2020-21 season back in the Highland League, where they would need to win a fourth title to ensure they had a chance at the pyramid play-offs again.Nicolson added: "We would be disappointed but if it's the Highland League we're in, we'll just have to do it all over again. If we keep the squad we've got I don't see any reason why we can't win it again.
"The boys will definitely be up for it to make sure we get the place in the play-offs that we think we deserve."
Nicolson, 31, spent 10 years at Elgin before joining Brora in 2017. He admits it has been difficult to put football to one side during lockdown.
He added: "It's not easy to park it up because it's part of your life.
"I go to training two or three times a week and then play on a Saturday – now that's been taken away. I don't know what to do with myself.
"We work so hard throughout the season, pushing to win the title as soon as we could as we all play football for moments like that.
"We got awarded the title but it was a bit bittersweet.
"It makes me want to play as long as I can, now I know what it's going to be like without football."