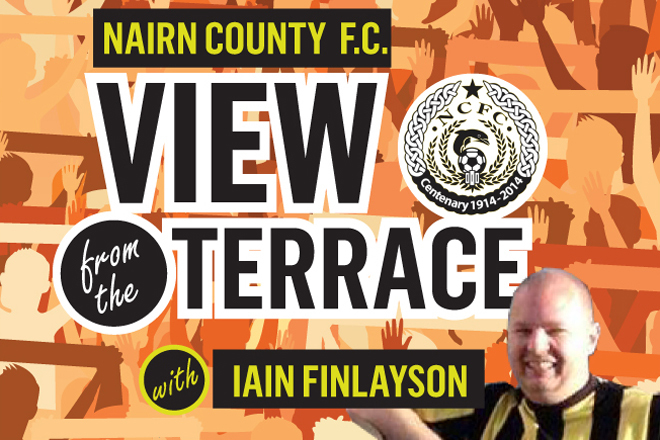 So…..we were away in the third round of the Scottish Cup on Saturday, against Arbroath in the third round of the competition.
If we got through this one, then the world could be our oyster… we could have Celtic at Parkhead… Rangers at Ibrox.. or admittedly Brora in the chilly north, but let's keep this upbeat. All we have to do is get past the runaway leaders of the Third Division who have only lost one game all season, easy eh?
The Scottish Cup holds a particular bittersweet feeling for your average Nairn County supporter, our history in it is one more of glorious failure than outstanding results and runs to the quarter finals.
For most of my youth we didn't get to play in it, the rules of the qualifying cup restricting entry to the semi-finalists of that competition which is something we didn't achieve very much back in the 80s and 90s. The one exception in that time frame was of course our run to the third round under Mansel Craib, putting out Meadowbank Thistle (precursors to Livingston for those that don't know their history) on a wet and windy night at Meadowbank Stadium.  We got a Premier League team in the next round, Dundee, and were promptly cuffed 8-0 but we don't like to talk about that.
What we did talk about for the next 25 years were the ghosts of Meadowbank.  That result gave us something to cling onto in the dark days of getting double figure doings to Cove, of being told by a certain club's officials we were rubbish and should get out of the league. Of fearing the knock at the door at Station Park in case it might be the sheriff officers finally closing us for good.
Those days are gone thankfully, the club has been built up onto a sound financial footing with careful and sound governance and the team built over the last 10 years to a place where we are now considered one of the `big guns` but we remember where we've come from.
We've won a few cups and had decent finishes in the league, however, still that glory of the fabled Scottish Cup run continued to elude us – that is until two years ago when finally, after 26 years of hurt we finally put a run in the Scottish Cup together and let me tell you my friends, there is nothing like it.
The run of 2012 included trips down to Preston Athletic, a lovely wee club next to a huge rugby pitch.  We were going along very comfortably at 1-0, then Paul MacLeod (cult hero of the Nairn fans) got sent off for something very stupid.  It was then a scrap before we came away with a 2-0 win.  This allowed us the excitement of the cup draw, awaiting it not on the radio like we did back in 1986 , but over the internet sites and of course Twitter.  The draw gave us an away tie at Third Division Clyde – tricky but do-able.
I didn't go, I couldn't as I was away with the significant other, however, my neighbour did.  I remember saying to James that our 2-2 draw down there was a good result and he nearly took my head off saying we should have beat them…..and apparently he was right, Glen Main's wonder strike not enough to finish them off. Anyways, we took them back up to Station Park, made it difficult and Andy Neil struck at the death to give us a 3-2 win and put Jim Duffy in a huffy!
So then the draw again, bigger clubs in this time but still the Premier teams not in the pot.  I remember getting a text a work. I can't say where I work but put it this way, doing a jig around the office at getting Forfar away….probably not a good idea. Forfar away it was though, another away day for the County hordes.  The bus was sold out and off they went, off went a fleet of cars but me, just like David McCallum in the Great Escape, went by train.  This was a mistake. You can't get to Forfar by train, it doesn't have a station. Cue the bus journey from hell from Arbroath to Forfar.  Arbroath again, you see how things are linked in this competition.
So Forfar come out in the first half and hammer us. They seemed to score every time they went up the park and by half time it was 3-0 going on 10.  I have to tell you, spirits at this point were a little deflated, apart of course from the significant other who said we were still in this. What does she know about football said I, she's a Caley Thistle season ticket holder…
45 minutes later we are at 3-2 and pounding them… the ref plays an extra evening of injury time… and then from a free kick, I can see it still, Franny MacMillan climbs above the defence and powers home the header to make it 3-3 and, after that, everything is a bit of a blur and at that point – at that very point – I got it!
Freeze frame right there in a time in Forfar. Franny covered by the team, Andy Neil with his head in the crowd covered by the fans, me hugging my significant other and Matty MacDonald at the same time. Junior Mendes, yes THAT Junior Mendes, jumping up and down on his one good leg after coming on and off in the space of 10 minutes.  Freeze frame it right there because THAT is the joy of the Scottish Cup!
That moment when your team exceeds all its expectations, when your history becomes now, when you become part of the moment and part of the history that will be talked about by fans when we are the old men – that's the cup, that's the Scottish Cup. It's truly wonderful.
As it happens, we lost 3-2 up in Nairn in the replay. We were unlucky. Just as we were on Saturday at Arbroath.
On Saturday we were beaten 2-1 to a dodgy penalty and a disallowed goal, but we will roll the dice again next year.
I don't think it will be 25 years before we have another cup run, I hope not at least, but if you're a fan of a team that's not doing so well at present.  If you get beat in the first round again and again, I know what its like, the 14-year-old me knows that feeling well and you know what – it does get better. That's the magic not only of the cup, but of football.
If you are interested in writing about your Highland League club, email andrew.clark@ajl.co.uk