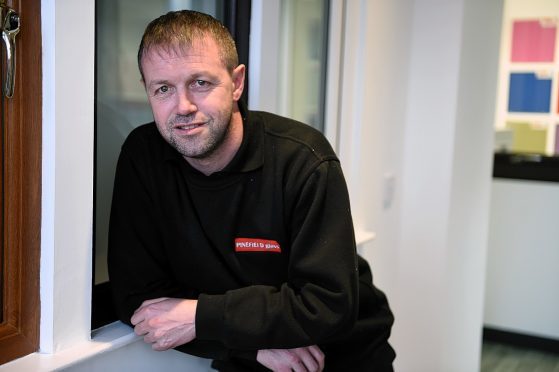 Forres Mechanics coach Charlie Brown has spoken for the first time about the depression which almost led to him taking his own life.
On Monday, November 2, Brown, a stalwart of the Highland League for past two decades, was found unconscious by his brother-in-law at Mechanics' Mosset Park, a ground he graced for 13 seasons.
The 41-year-old, who is now a coach at Forres and runs the club's youth system, hid his problems.
Eventually Brown, who works for a glazing company in Elgin, could take no more.
He said: "I have been suffering from a depressive illness for a few years now, each time I felt that I was getting better, getting over it, bang, something else happened and I was back to square one. It just took the feet from me.
"I have been taking my medication regularly, but when I went away on holiday earlier this year a few things happened, and that upset me even more.
"I honestly did think that I was getting better, friends and family were all helping, but then one night in November things came to a head.
"I needed to go out for a walk, I did that, but by the end of it I just felt I had had enough.
"I went away and bought a bottle of vodka, don't ask me why as I don't drink vodka, I hadn't had a drink for something like 11 weeks.
"I went back to my flat, picked up my tablets and headed for Mosset Park, where I tried to end it all.
"I always send text messages to my kids, my son Jamie and daughter Abbie any time I am feeling down, I did that again that night to tell them I loved them, and I also texted my wife Fiona to tell her that I had had enough. It wasn't a cry for help as I had made my mind up to end it all, after I had taken my tablets and that bottle of vodka I actually called a few people to tell them they would find me at Grant Park in Forres, when I was actually down at the football pitch.
"I didn't want anybody to find me.
"The Mosset is a special place for me, it's where my dad's ashes are scattered, and I am comfortable there. When I went down that night I sat in the dugout for a while, I just kind of walked about the place just one last time, then I thought, that's it."
Family intervention was crucial.
Brown added: "Thankfully, when people were searching Grant Park in the dark in an effort to find me, my brother-in-law Charlie Watt suddenly said they were looking in the wrong place, and I would be at Mosset Park.
"I believe that everyone else continued with the search at Grant Park while he and his wife came down to the Mosset where they found me unconscious. I was taken to Dr Gray's hospital in Elgin before being transferred to Aberdeen Royal Infirmary.
"I was in a coma a for two days, I have been told it really was touch and go, and if they had been five minutes later in arriving at Mosset Park that night I wouldn't be here today.
"I now believe that I have been given a second chance."
Brown was raised in Clydebank and played for his hometown team before the family relocated to Forres.
That is where Brown will stay as he explained: "I actually went back down to Glasgow recently, thinking about a possible move back down, as I had been offered a job. I decided it wasn't for me – there is no point in running away from it, my kids and my mum are still up here, and actually recent events have brought my family, especially my bother, and my two sisters, much closer to me."
Brown, who received a testimonial match against Aberdeen on August 7, 2006, knows little things can make a difference.
He said: "People don't realise that even something as simple as a text can help, that is what is helping me all the time just now. I am taking it one day at a time, but I have been overwhelmed by the support I have received, not only from my own club Forres with our manager Charlie Rowley, our chairman Dr James Anderson, and of course the players, but from people from throughout the Highland League and beyond.
"I was in the position of thinking I was on my own, and that nobody was really bothered about that. But the amount of support I have had by way of e-mails, texts and phone calls has been unbelievable. It shows the Highland League really is just one big family, who in times of need really do look after their own.
"It has taken something like this for me to realise it, and I would like to thank each and everyone for the support they have given. It means so much to me, anybody else who fins themselves in a similar position to the one I found myself in, the support is always there if you need it.
"I took a couple of weeks away from the game and eased myself back in gradually, although the likes of Forres players Scotty Moore and Simon Allan kept texting me to hurry back as they were missing the craic.
"Messages of support like that definitely helped me to overcome the hurdle.
"I would also like to thank the medical staff and doctors in both Elgin and Aberdeen for saving my life. I was in a coma for two days and didn't know anything about it, but my mum told me just how much I owe those people who really looked after me."
Brown has resumed his football career and believes his involvement can only be a benefit.
He said: "I am getting stuck into revamping the Mechanics' youth system, and I'm also working hard on a Tuesday night to get our full back Graham Fraser fit again after nearly a year out with a serious injury. It all gives me something positive to look forward to.
"During the day I am setting myself little challenges ahead for a couple of days ahead, I am gradually getting there, but knowing what I know now, I would definitely urge anyone who finds themselves in the darkest of places to seek help. It is always there, but they need to realise just how much is there.
"People say they don't want to go to their doctor as they will be all right the next day, but you just don't know what is ahead of you. That's what you need to get sorted, it might only be a 10-minute chat, or perhaps half an hour, but that bit of advice could save your life.
"I regret my actions now, but at the time I felt I had no option, I was hitting a brick wall every day. Everywhere I turned there was always someone trying to block me, I actually did go to counselling, and I thought that I was doing really well, until one night it all hit me.
"Now I can see just how wrong I was, but at the time, when you are in that position, it is something you just can't control.
"I have my family, my friends and the whole of the Highland League behind me, so I really do have everything to live for."
Help is available to tackle a mounting problem
Mental health issues in Scottish football are becoming more commonplace according to PFA Scotland chief executive Fraser Wishart.
Charlie Brown's struggles with depression are not uncommon with the tragic loss of 20-year-old Forfar Athletic defender Jack Syme, whose body was found at the foot of cliffs in Perthshire in February, further evidence more has to be done to tackle the issue.
Former Peterhead midfielder David Cox, now with Airdrie, also went public last October about his self-harming and suicide attempts.
A survey carried out last year by FIFPro chief medical officer Dr Vincent Gouttebarge revealed 26% of active footballers in Scotland, Australia, Holland, New Zealand and US admitted to signs of anxiety and depression.
This figure rose to 39% in retired footballers.
PFA Scotland chief executive Fraser Wishart said: "Depression can affect anyone at any time and footballers are no different.
"Football is a highly pressurised environment and is also a very short-lived career and that can bring added stress and worry.
"Mental health issues are one of sport's taboo subjects and it is difficult for players not just to recognise it, but also know where and who to turn to if it strikes.
"Players don't have to suffer in silence, but the initial findings from a survey we recently carried out in conjunction with the SFA and Mental Health Football Forum shows that some are – and even one is too many.
"At PFA Scotland we have been raising awareness of, and addressing, this issues for a number of years.
"Players can approach us in total confidence and we have a number of partnerships with the likes of Breathing Space and SAMH we can signpost them to where they can get expert counselling and support.
"Our locus covers the 42 professional SPFL clubs in Scotland, and although we don't have a remit within the Highland League, if Charlie approached us we would give him the support and advice he required."
Anyone who feels they are struggling to cope is urged to contact the Samaritans by phone on 116 123 – this number is free to call and will not appear on your phone bill. Help is also available by e-mail at jo@samaritans.org or visit www.samaritans.org to find details of your nearest branch.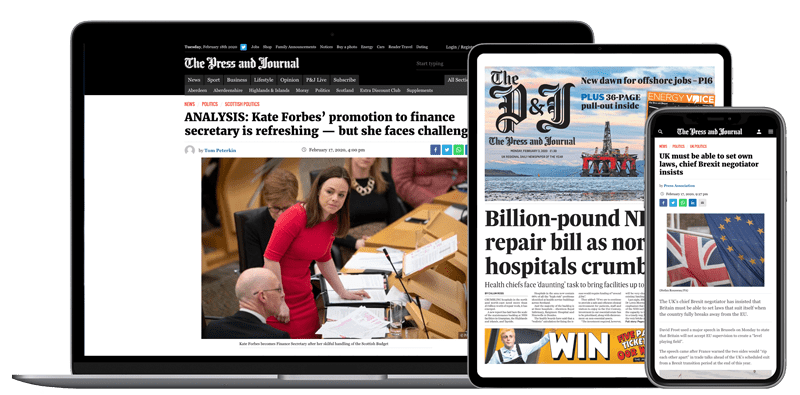 Help support quality local journalism … become a digital subscriber to The Press and Journal
For as little as £5.99 a month you can access all of our content, including Premium articles.
Subscribe