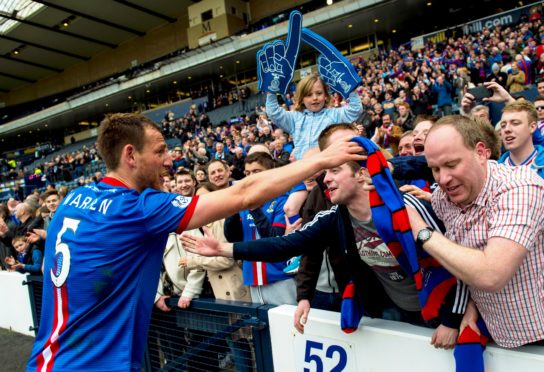 The 17th minute.
Resignation briefly flickers across Gary Warren's face. He has been here before.
Celtic's James Forrest scampers the wrong side of the Inverness defender. Grappling with him, Warren brings him to the turf. Steven MacLean's yellow card confirms what he already knew.
"Straight away, I knew I was going to get booked. I knew if I was booked, that would be me out of the final. But you know at that time, you can't sulk or mope. You have setbacks; that day is still a massive high for me because we managed to win.
"It's not about me. It's about the team and the club. If I can play my part, in getting the team to the final, without letting anyone down, then that was my aim."
There were still, as it panned out, 117 minutes of this 2015 Scottish Cup semi-final still to play. Warren was adamant that a harsh lesson, learned little over a year before, was going to stand him in good stead.
Warren had picked up a yellow card against Hearts in the League Cup semi-final, but continued to "charge around like a bull in a china shop". A second booking duly came, ending his game and depriving him of a final berth against Aberdeen after nine-man Caley Thistle staged one of the most remarkable cup comebacks in recent memory.
"I learned from the previous semi-final. That was me being a little bit naive and stupid. I was still trying to clatter people and run a bit of a tightrope.
"But I learned from then. This is the biggest cup competition in Scotland and you don't want to let anyone down. I thought to myself I wasn't going to do that again, with what was at stake."
That his centre-back partner Josh Meekings was to go through his own mirror-like scenario was bizarre. Meekings, also sent off in that Hearts game, had his straight red card reduced to yellow on appeal, freeing him to face the Dons.
The win over Celtic on April 19 the following year was not reflected upon outside the Highlands for the Caley Jags' heroics. Meekings' handball, or rather its complete missing from MacLean and his officials, dominated headlines and subjected the young centre-back to effectively trial by public opinion.
A suspension from the Scottish FA was duly handed out, banning Meekings from the final too. Only diligent and determined legal work from Inverness freed him to feature against Falkirk. Deja vu, indeed.
"It was more afterwards with Josh. When those scenarios happen at the time, you think 'I've got away with one here'. But afterwards he got a bit of stick which wasn't nice to see. At the end of the day, it's not his fault the officials missed it.
"It showed his strength of character, at such a young age, to come through that. Two centre-halves, exactly the same situations that occurred two years in a row, you couldn't write it."
But let us recap that memorable day, cited by many in Inverness blue as their cup final, their showpiece. The Falkirk win a month later ultimately brought them the trophy, however the toppling of Celtic, treble-chasing Celtic, was another memorable chapter in their history.
Virgil van Dijk, he of £75million-Liverpool-switch fame, dispatched the resulting free-kick from Warren's foul. Meekings' escape before the break gave hint it may be Caley Thistle's day but the sending off of Craig Gordon, for felling Marley Watkins, was almost confirmation.
Greg Tansey scored from the spot. The two teams toed and froed before extra-time, Inverness keen to seize their moment and Celtic unwilling to relinquish their dominance. Eddie Ofere rattled a low shot through Lukasz Zaluska to put John Hughes' side in front, only for Celtic's stroke of fortune, in John Guidetti's free-kick bouncing and skipping over Ryan Esson, to level again.
"That's one of the only times I've seen van Dijk get bullied by two centre-forwards. I thought the two front boys for us caused them all sorts of problems. Van Dijk scored the free-kick but after that, he struggled for the rest of the afternoon."
A full century of minutes after Warren's own personal low, team ecstasy arrived. Graeme Shinnie darted between Hoops' defenders to reach Nick Ross' pass, angling the ball towards the back post. David Raven, ever the unlikely hero, steered it home. Full-back setting up full-back; Hughes' footballing utopia had been put on to canvas.
"He would have been over the moon with that goal. That's at the end of extra-time, not 90 minutes. We were so well-drilled; that was credit to John Hughes, as he transformed that team. He got the best out of me for the time he was working with us.
"That was my final and that's how I took it. Go and enjoy this one, get the boys over the line and then you can enjoy this as if this is your final."
---
Sitting in the stands for his return to Hampden Park was bittersweet for Gary Warren.
Ultimately, he watched his team-mates lift the Scottish Cup with a 2-1 win over Falkirk, but he wanted to be out there with them.
"I wasn't allowed anywhere near the changing room. I ran on the pitch at the end anyway. I was sat with Dean Brill and my Mrs in the stand. It was a proud moment, to see the lads walking out. Thinking about it now, I can still picture it. I wished I was playing in it. That was probably the hardest thing.
"It's a little bit of satisfaction for the hard work we put in through the season. We did well in the league that year and it's a big reward to get to the final of the Scottish Cup, going on to win it."
Warren was one of the first on the scene to console Carl Tremarco, who was understandably devastated after seeing red. Experience had taught him just being an extra presence in the room could help.
"I knew from previous experience how he would have been feeling, just to see how he was. I don't really say a lot – words can't do too much at that time. He would have been feeling he'd let everyone doing, that we'd lost the game. It was just to be there if he needed anyone."
One thing that still needles Warren a little is the lack of a medal from that final. Not so much for himself, but for others that also missed out on the game but played their part in the cup run.
David Raven scored the winner against Celtic but missed out through injury. Dean Brill dislocated his kneecap in a league game against Celtic the week before the semi-final, but had played in the earlier rounds.
"I know I didn't play but the likes of David Raven, Dean Brill, guys that played a big part in that run. Raven scored the winner and didn't get a medal, because he was injured.
"I know the rules have changed because what we did as a club, putting it to the SFA, but it doesn't make it any sweeter."
The centre-back, now with League 2 side Exeter City, lifted the Challenge Cup in 2018, but the joy just was not as poignant.
"It's nice to win and brilliant to lift the trophy, but it didn't really have the same effect. It didn't make up for me not getting a medal and missing the final."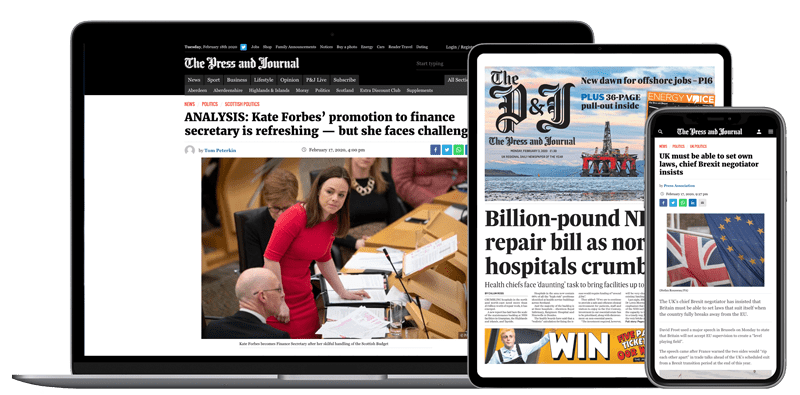 Help support quality local journalism … become a digital subscriber to The Press and Journal
For as little as £5.99 a month you can access all of our content, including Premium articles.
Subscribe